How To Decorate Your Kitchen For Christmas?
Have a read through our very festive blog to find out about the best Christmas kitchen decoration ideas that will undoubtedly add an extra pinch of holiday cheer to your home!
For many, the kitchen is the heart of your home. Therefore, how could you not go all out when it comes to decorating this particular room of the house for Christmas! After all, you and your loved ones will be spending a lot of time there preparing the glorious feasts you no doubt have in store.
If you've tended to have not decorated the kitchen for Christmas, let this year be different! Have a browse through our kitchen Christmas decor ideas below and gather some inspiration on how you can bring a Yuletide feel to the kitchen space…
Garlands, Wreaths & Greenery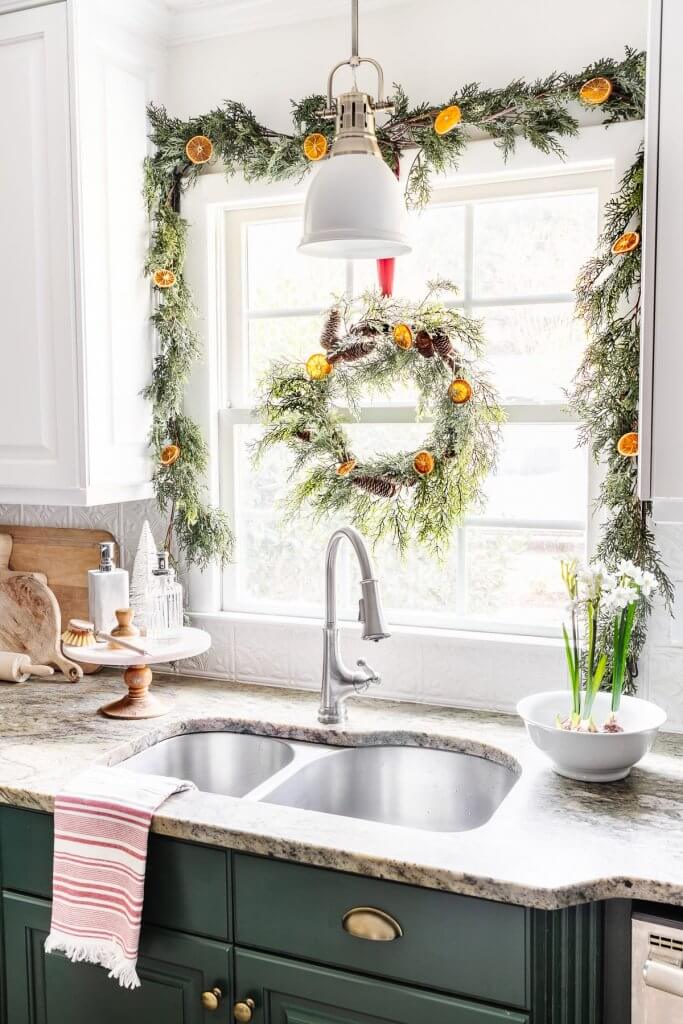 Although many associate Christmas with the colour red, take a closer look at Christmas decor and you will also find an abundance of green. Usually, this takes the form of trees, but garlands, wreaths and other greenery will be dotted around a home.
The great thing about garlands and wreaths is that they give you a tremendous amount of flexibility when it comes to decoration. You can place them here, there or anywhere you like, and will rarely look out of place in any kitchen location. Dangle them in windows, hang them off chairs or string them up on your cabinets!
Furthermore, without the fancier bells and whistles, wreaths and garlands are fairly inexpensive. Some are actually meant to be bare and look even better without any additional ornaments being put upon them.
Though, you don't have to opt for a garlands or wreaths if they're not to your fancy. Just adding a touch more greenery to your kitchen will make a world of difference. Never underestimate the power of foliage!
A Second Christmas Tree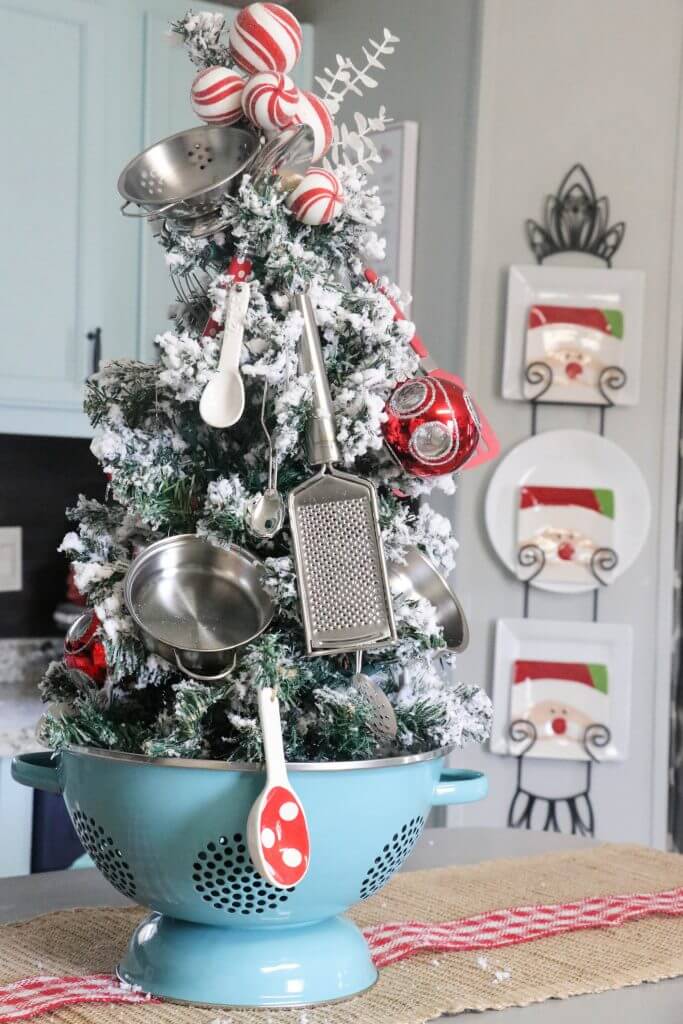 Speaking of foliage, why not add another, perhaps smaller Christmas tree in the kitchen? Even though many families usually have their main tree in the living room or conservatory, you can never have too many Christmas trees around your abode during the month of December.
Break the mould and add another tree in the kitchen! It doesn't have to be anything extravagant. A smaller tree would be ideal as then it won't take anything away from the grandness of your main tree. Or, there's the option of dotting a number of mini Christmas trees around the kitchen which would be a cute and jolly idea.
Christmassy Candles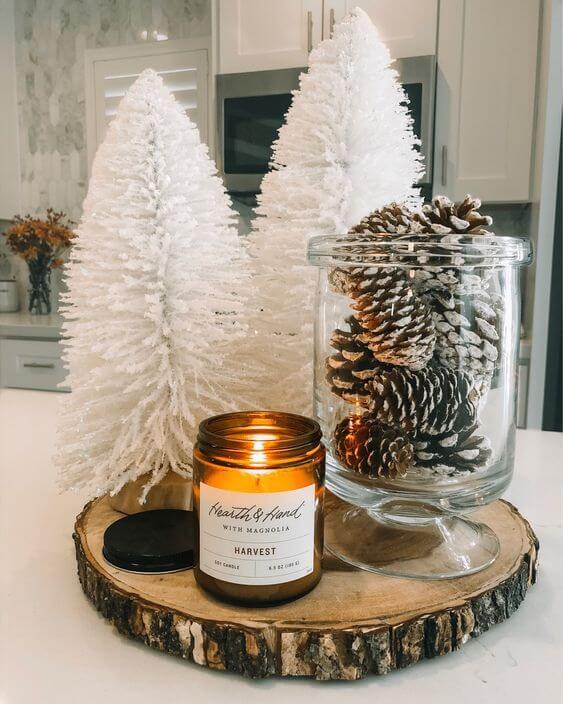 There are so many scents and fragrances that make you feel instantaneously Christmassy. Balsam, Pine, Warm Embers, Fresh Mint, Gingerbread and more will ensure that multiple senses will receive the full Christmas treatment.
Just think about walking into your kitchen and smelling the wonderful fragrances on Christmas morning. Candles are definitely an under-utilised decor option and it's a shame that many miss out on their multidimensional benefits.
Scents aside, candles also create a warm, welcome, cosy and calming ambience for any living space. They are also very aesthetically pleasing to look at, and scented candles in particular are effective at helping reduce stress and anxiety!
Stockings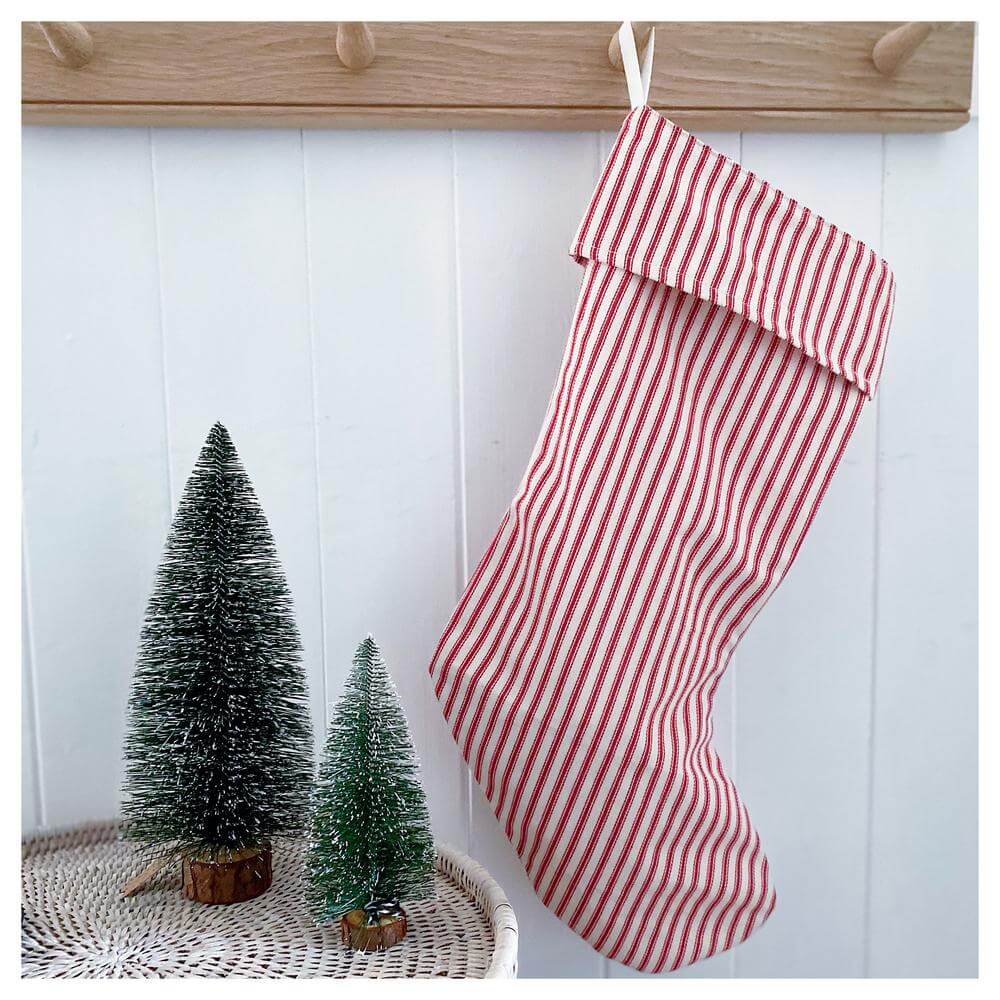 A Christmas classic! These can practically be hung anywhere in a kitchen…just maybe not around the stove or oven area! Apart from that, hang away! Stockings can come in a range of different colours and a wide variety of designs, so we're certain you'll find ones to match up with your kitchen aesthetics.
Many families tend to have customised Christmas stockings with each family member having their own name adorned or embroidered onto the material. This is a very nice touch and certainly one that this Christmas-loving writer would recommend!
Christmas Cards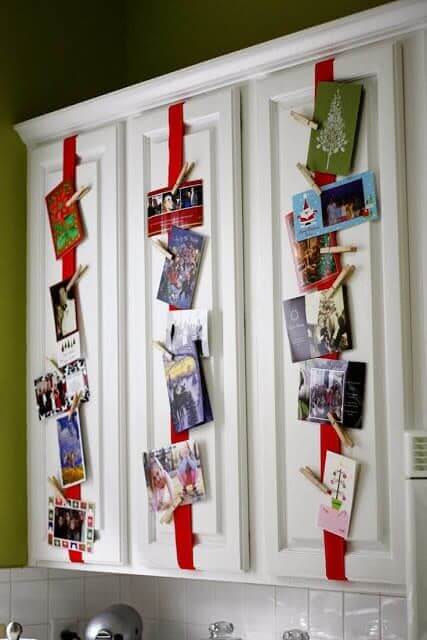 The kitchen can be a great place to display this year's Christmas cards. With so many beautiful and colourful designs to showcase, they are a great way to add a bit of colour to a kitchen over the festive period. So, this is a pretty good decor strategy for those with a more minimalist kitchen decor.
There are plentiful ways to display said cards including: draping ribbon over the back of doors, making your own DIY card holder, arranging cards in a Christmas tree shape, lining your shelves and cabinets, tucking them into window shutters or stringing them up with simple beaded garlands.
Mistletoe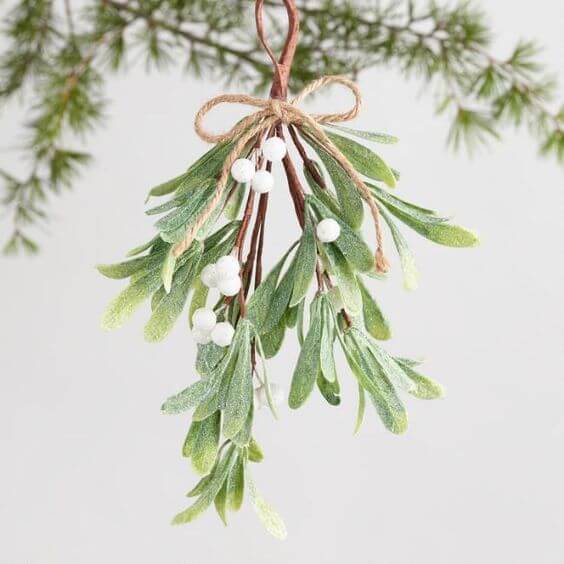 A smooch by the stove anyone? Who can forget about mistletoe when it comes to Christmas decor in any room of the house. Seeing as the kitchen is the room that many will spend the most time in over the holidays, is there a better place to hang up the mistletoe?
Miniatures, Models, Ornaments and Mini Displays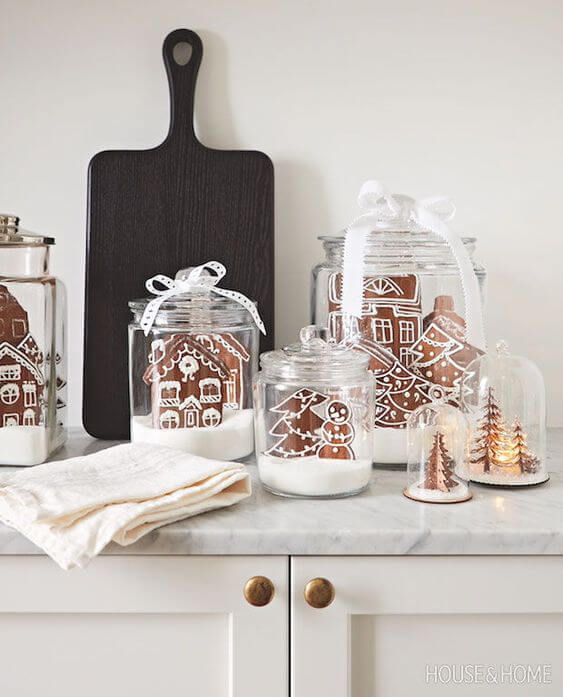 Over the many Christmases, over the many years, we're sure you've accumulated an immense amount of bric-a-brac. Whether it be a miniature of Santa Clause, some wooden reindeer models, jars filled with candy canes, or hangable snowflakes, it's time to get the box of Christmassy goodies out from the loft.
The placement of these items can be as small & discreet, or as grand & eye-catching as you like. For the prior, simply dot a few ornaments around the kitchen setting. For the latter, creating a grandiose mini-display on your kitchen table or on your kitchen worktops!
Christmas Lights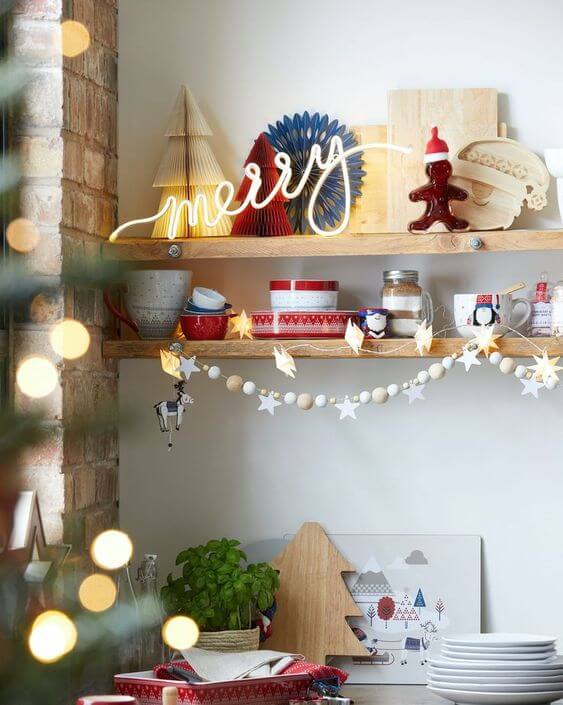 A staple of general Chirstmas decor is lighting, so why should the kitchen not receive the same treatment as other areas of the home? Smattering some fairy lights across the kitchen landscape will provide an extra bit of festivity and atmosphere to the room.
If you hang them high up across your upper cabinets or in other out-of-the-way locations, you can have an uninterrupted & unimpeded kitchen hustle and bustle whilst getting your cooking on in style!
The Christmas Table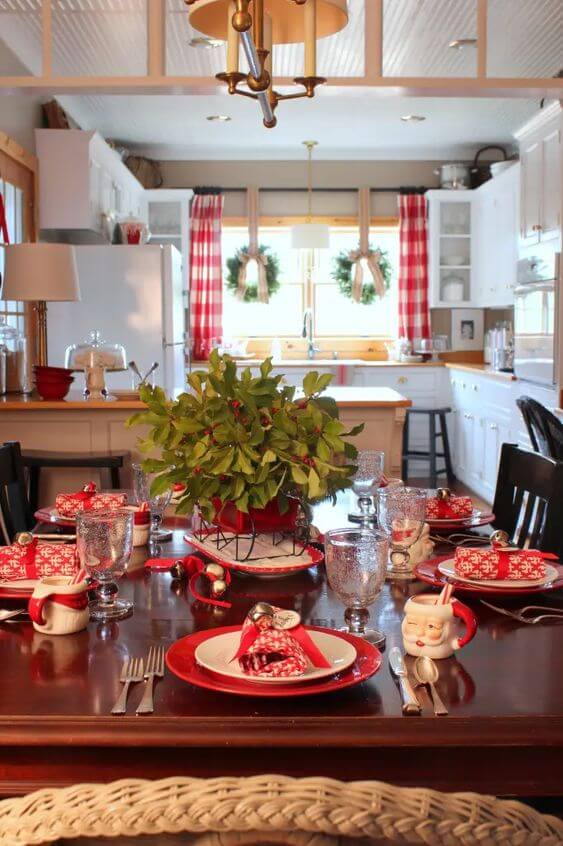 Finally, the pièce de résistance of any kitchen decor (well…depending on where your dining table is located in your home) is the Christmas table. If you are dining in your kitchen this Christmas, then extravagant decorations must be adorned onto the table.
We recommend lots of bold reds for ornaments, candles & candleholders, crackers, napkins and perhaps for even the tablecloth itself. The reds can be paired with lots of greens and whites to create an all round ultra-christmassy table setting.
And That Was Our Guide On How To Decorate Your Kitchen For Christmas
We hope that we help you add a sizeable amount of Christmas cheer to the heart of your home this year!
With all this talk about kitchens, if you by chance happen to be thinking about having a kitchen extension done in the new year, we'd love to hear from you!
At West Midlands Home Improvements, we have worked on countless kitchen extension projects throughout Birmingham & the West Midlands region. You can view many of our completed projects on our Facebook or Instagram pages.
The biggest selling point about working with us is that we can take any residential renovation project from inception to completion. Why work with a multitude of different companies when you can have one home improvement company take an entire project from start to finish!
We are also one of the only companies in the Midlands to offer 0% finance options on absolutely all of our services. Spread the cost of your dream renovations over small & convenient monthly payments, instead of a large lump sum up front.
Get in touch with us today by giving us a call on 0121 532 0784, or filling out a contact form.
From all of us at the WMHI team, we wish you the most merry of Christmases and the Happiest of New Years!