Small Kitchen Extension Ideas For 2022
There are so many small kitchen extension ideas that could have a massive impact on your home! When it comes to kitchen renovations, it's not all about size. Instead, think about how best you could utilise space for maximum function & aesthetic.
At West Midlands Home Improvements, we have a wealth of experience in creating kitchens of all sizes. Make use of our years of industry knowledge, and you'll rapidly discover that it's all about renovation quality over renovation quantity. Even if you're only adding a few square meters of additional space, the transformative effect can be life-changing for a home!
With small kitchen extensions, there are two aspects that you will want to prioritise…light & height. The brighter and more natural light a space has, the bigger it will appear due to the illusionary architectural effect that occurs.
Furthermore, the more height a room possesses, the greater the antithesis to cramped-ness results. Higher ceilings or heightened sections in an extension can have a dramatic impact on a space when done correctly. A feeling of luxuriousness and openness will fill the room, which is exactly what you want when you have a smaller space to work with.
Also, if some connection can be made between your kitchen extension and the outdoors, whether it be via the garden or sky above, the benefits are tremendous. Either will help bring the outdoors into your kitchen, and this linkage provides a combination of both light & height for a double whammy of smart & astute design choices!
First Port Of Call – Location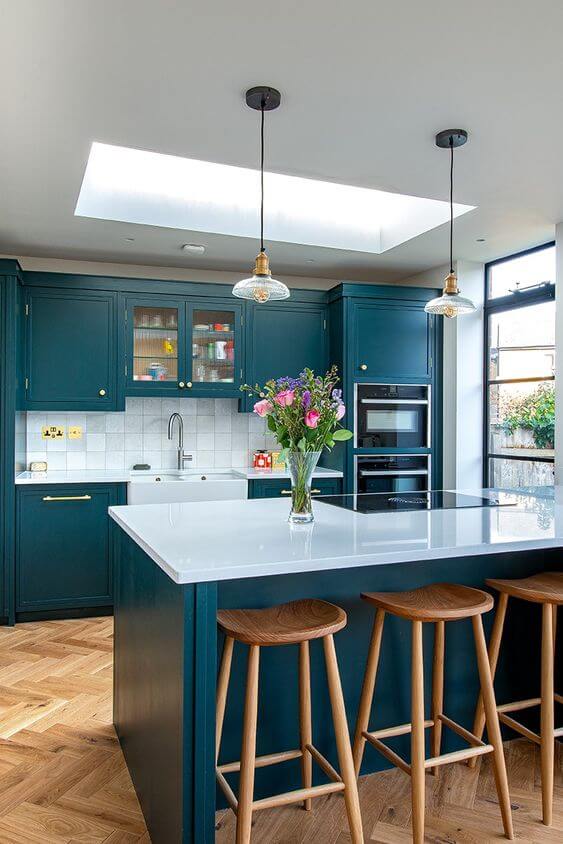 Before we move onto ideas which can inspire you're own small kitchen extension project, we don't want to get ahead of ourselves. Firstly, you need to figure out where your extension will actually go.
If you have enough space at the rear of your property, then you have the option of creating a small rear kitchen extension. However, many homeowners may not want to sacrifice on valuable garden space, so that's something to definitely consider!
The option many prefer is the side return extension, which makes use of what often is unused space down the side of a property. It will add significant width to your kitchen without forfeiting any prime real estate. 
The third choice is a combination of the above two…the wrap around extension. The name says it all. This type of renovation will make use of the side return and some space to the rear of the property, creating an extension which wraps around your existing home.
Extension Type
Once the location has been decided, the next thing you'll want to think about is what type of extension you desire in terms of materials…
Block & Brick Extension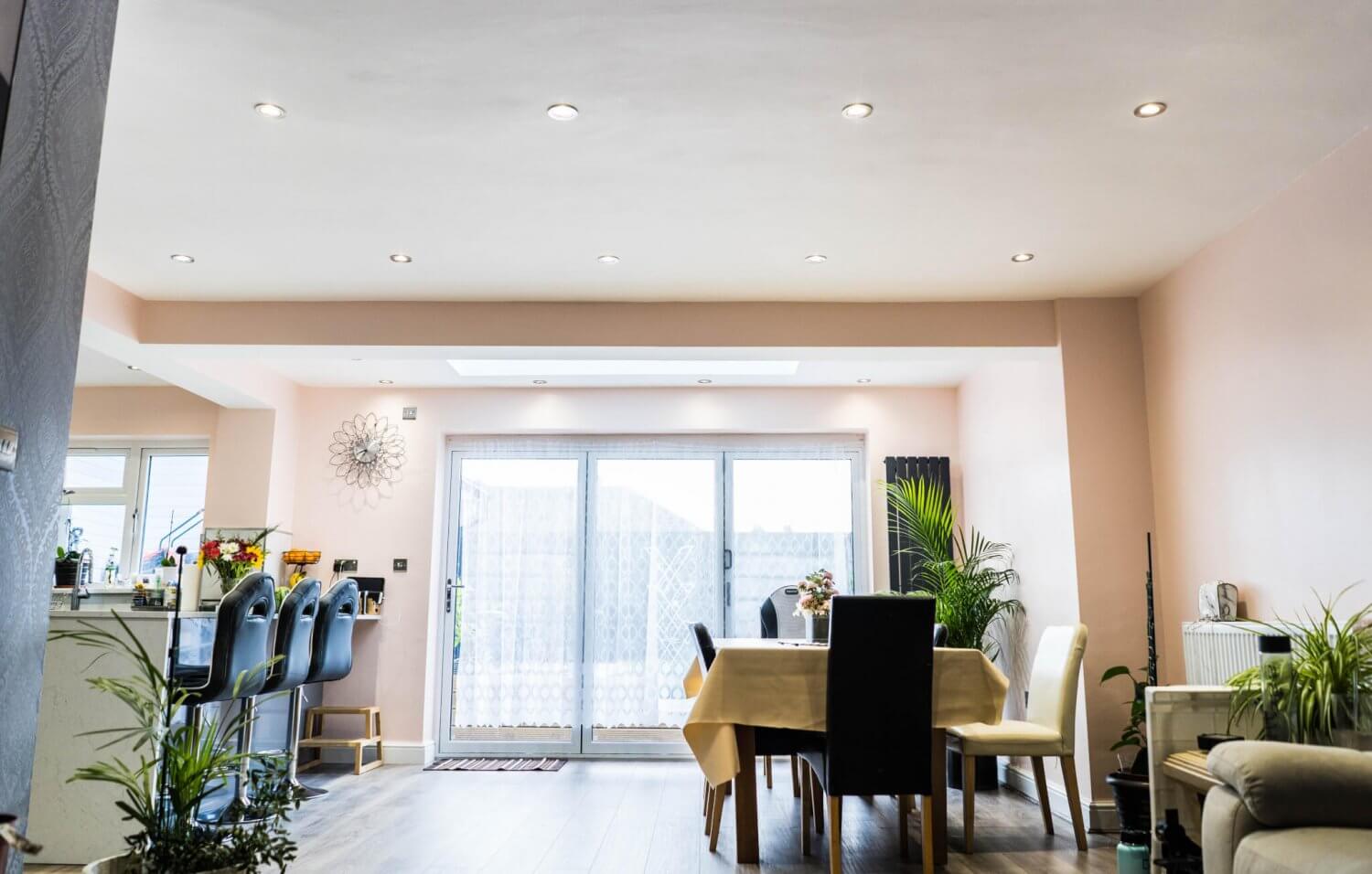 The typical choice is to opt for a block & brick-based extension. These are the most practical in terms of insulation and you can add skylights, a lantern roof or other glazed elements to ensure the space receives enough natural light. Bi-Folding or swing & slide doors are another addition that could help a smaller space feel much larger. 
Conservatory Kitchen Extension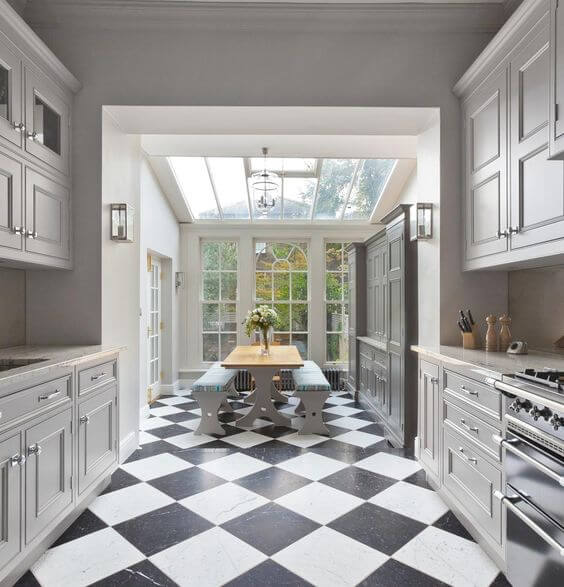 You could also choose a conservatory kitchen extension. Whether it be a lean-to conservatory to the side or a small conservatory added to the rear of your property, both would make for beautiful choices. They are also more cost-effective than block & brick extensions.
Glazed Kitchen Extension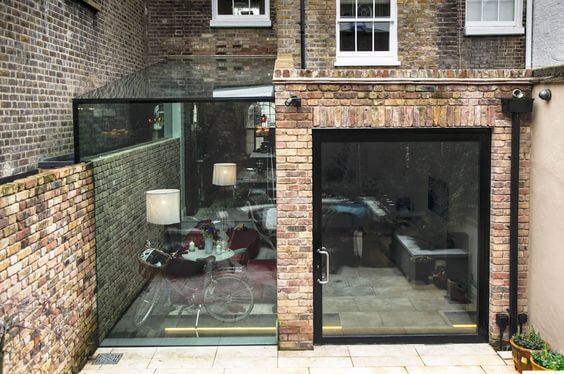 The final option is the glazed kitchen extension, where you will undoubtedly have the most natural light flooding into your kitchen and the most uninterrupted views of your garden and skyline. The drawback being that these types of extensions lack comparative insulation, which can result in the space feeling cold in the winter and too warm in the summer for some.
Kitchen Shape & Design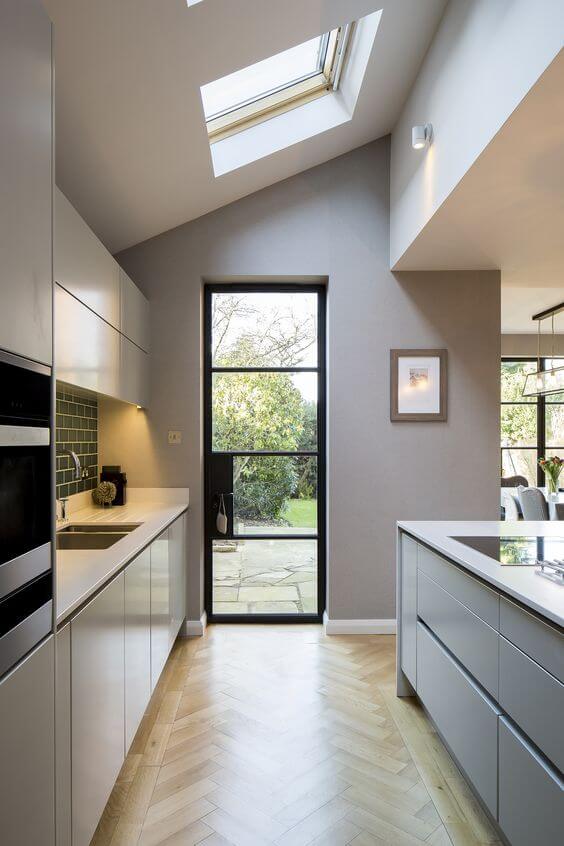 Now that the location and type of your extension has been accounted for, we now need to move onto the internal aspects of the space! The layout is such an important aspect of a kitchen and there are some important questions to ask…
How do you envisage your new kitchen looking from the inside?
How do you tend to and want to use your kitchen?
Do you want an open plan space?
Have you heard of the working triangle?
What shape would you prefer/would work best for your kitchen?
Your kitchen should be constructed in way which perfectly fits your needs. For those not aware of the lingo, the working triangle is made up of three kitchen focal points. The sink, fridge and hob. You'll want to place these points near enough to one another so meal preparation is efficient, but not close so you feel cramped whilst doing so. 
After the working part of the kitchen is figured out, you can then look to arranging the kitchen itself. There are a few go-to shapes when it comes to kitchen design…
The U-Shape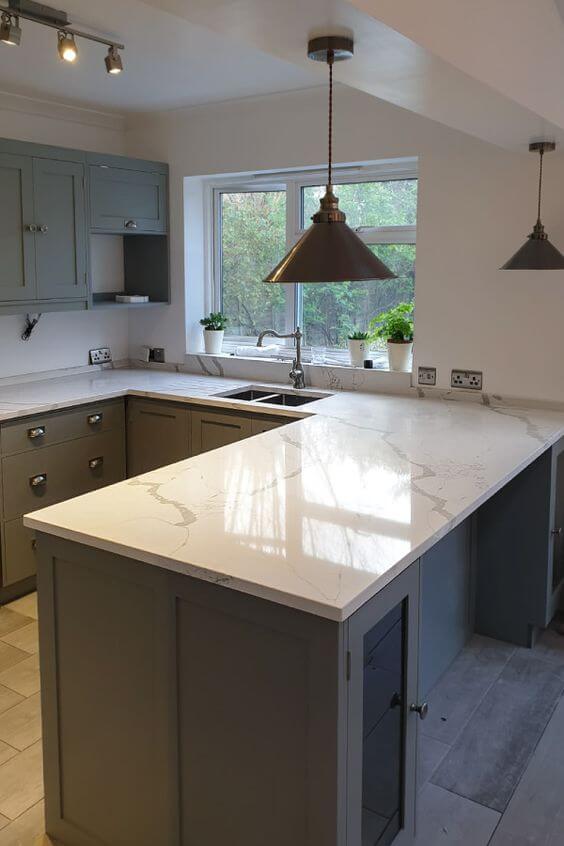 U-shaped kitchens are a versatile and efficient way to organise a kitchen. What has become an increasingly popular kitchen layout for the contemporary homeowner, the U-shape works well in kitchens of various sizes.
For smaller kitchens however, the inclusion of a breakfast bar can be a real game changer. It would make up one side of the U-shape and can can essentially serve the same purpose as a kitchen island…but takes up far less space. 
It also provides more work surface area, as well as ample storage below. From this point onwards, you can start to picture where you would want your fridge, sink and cooker to go. Everything else in terms of cupboards, drawers and appliances will simply fall into place naturally thereafter.  
The L-Shape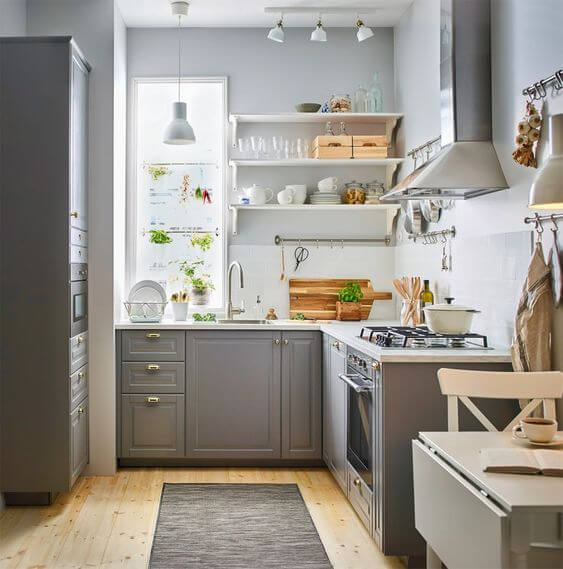 Another popular option is the L-Shaped kitchen layout. These types of designs can be as stylish as they are space-efficient. The shape naturally provides a lot of space to utilise in the centre of your kitchen. 
Therefore, many choose to include a small kitchen island or dining table in this section. There is a real sense of openness with kitchen layouts such as this, and a lovely connection is made between a kitchen and the dining area. 
The Galley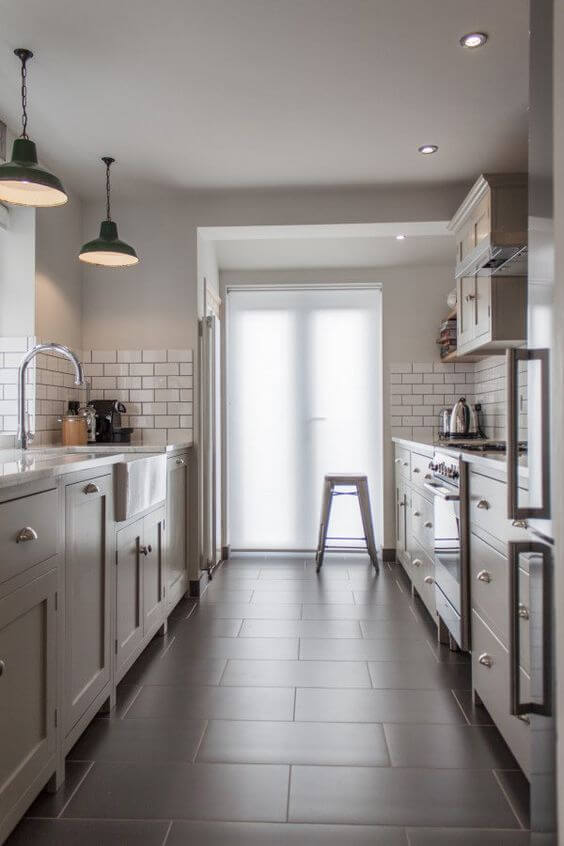 For those who know their nautical terminology, the galley is what the kitchen is called on a ship. Usually, these are very slim, long and narrow spaces and these elements have crossed over into residential kitchen planning.
If you get the set-up just right, this kitchen layout can be fantastically efficient, functional and you can even create a quaint social hub too. 
When extending to the rear of your home, galley kitchens are often an excellent choice. Particularly for narrow, terraced homes…the layout will help you get the most bang for your buck when it comes to the space maximisation of your extension. 
…And That's Our Guide To Small Extension Ideas!
We sincerely hope that you've found this guide useful and that it inspires your own home improvements!
If you're looking to add a kitchen extension of any size to your home and you live in Birmingham, the West Midlands and surrounding areas, contact the West Midlands Home Improvements team today!
At WMHI, we've installed countless kitchen extensions across the region. Alongside our sister company West Midlands Double Glazing, we can take any residential renovation from inception to completion. Why work with a number different companies which will require a lot more effort & lines of communication, when you can have a singular home improvement company bring your dream renovation from conception to reality!
Just to let you know…we are one of the only companies in the West Midlands to offer 0% finance options on our entire range of services. Spread the cost of your dream renovations over small & convenient monthly payments, instead paying for it all at once!
Check out our Facebook or Instagram pages to see the latest pics and videos of our recently completed projects.
And…If you have absolutely any questions about small kitchen extension ideas or want to talk to us about your own project, get in touch with the WMHI team today! Either call on 0121 532 0784, or fill out a contact form and submit an enquiry!