Modern Bathroom Ideas For 2022: The Ultimate Guide
If you're looking for the latest and greatest modern bathroom ideas for 2022, you've come to the right place!
In our ultimate guide, we have every possible bathroom base covered. From bathroom lighting at the top, all the way through to bathroom flooring at the bottom…and everything in between. 
You won't find another blog more comprehensive! We'll provide modern bathroom ideas to suit all style preferences, budget requirements and include all of the latest trends to ensure your bathroom design will stand the test of time. 
Modern Bathroom Design Ideas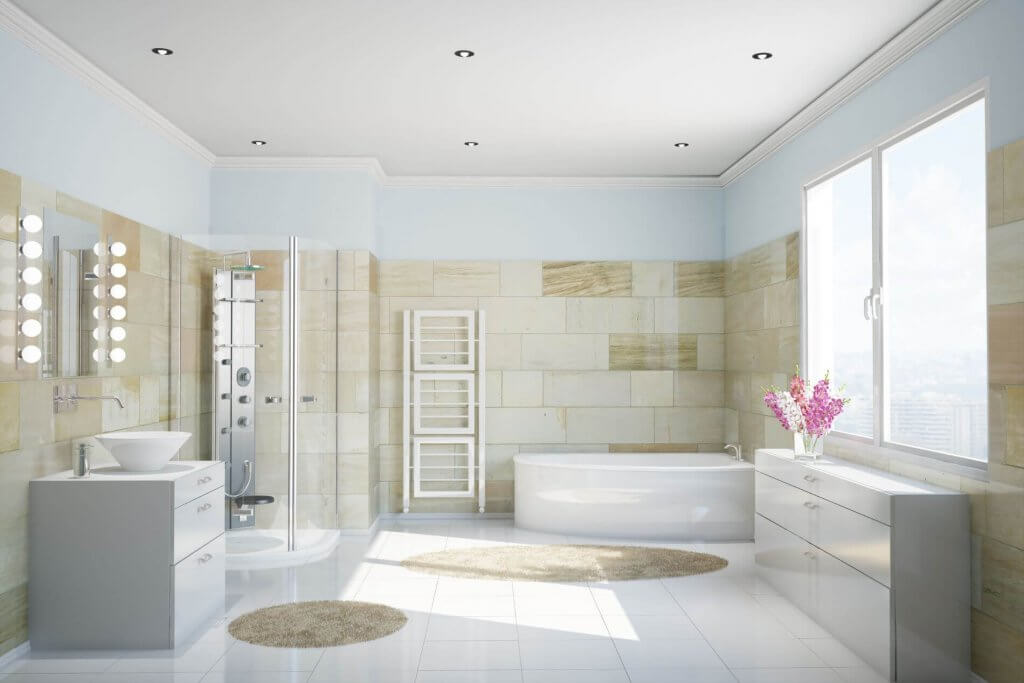 Bathroom renovations have been on a significant rise in recent years and it's easy to see why. To get away from the hustle & bustle of daily stresses, creating a spa-esque feeling of escapism has become a priority for many.
However, bathrooms need to cater for more than just relaxation. They need to be multifunctional spaces that can cater for the demands of all family members. A great way to start thinking about the practicality of a bathroom design is…could it handle the morning rush? From there, you can gather a few ideas when it comes to the essential bathroom needs.
Ask yourself questions such as…
Who will use the room? Is this bathroom an en suite or a family bathroom or a guest bathroom?  Do you need a shower or bath or both? Do you require space for simultaneous teeth brushing sessions? Would you need a good amount of storage space for bath toys for tiny tots? Do you require certain lighting which would aid make-up application?
Once you've answered these, you'll have a list of must-haves that will form the cornerstones of your bathroom design. From that point, you can go on to assess the available space you have to work with and think about the kind of layout & aesthetic you'd like to have in your new bathroom design.
Now, the fun can begin…
Bathroom Colour Ideas
The colour selection of your bathroom is crucial for evoking the specific feelings and ambience you desire. For many, a duality needs to occur where the colour scheme suits both everyday use, but also allows for that spa-esque escapism when you want it to. Let's go through a few of the options…
Blues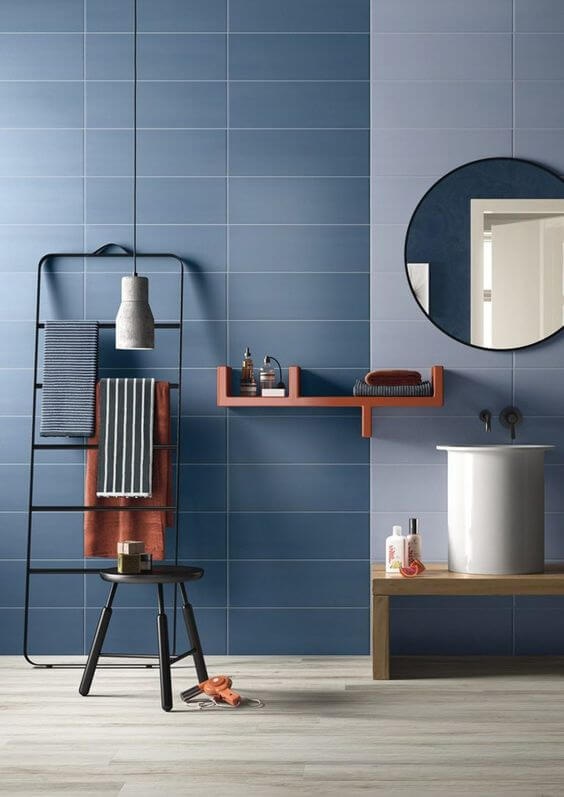 If you're looking to replicate an oceanic feel or those of relaxing summer skies, then a shade of blue may be for you! For an ocean feel, we recommend darker, richer blues whilst lighter blues will help replicate the sight of clear blue skies. Furthermore, a nice combination of the two is aqua blue, which can create a lovely sense of the seaside.
Greys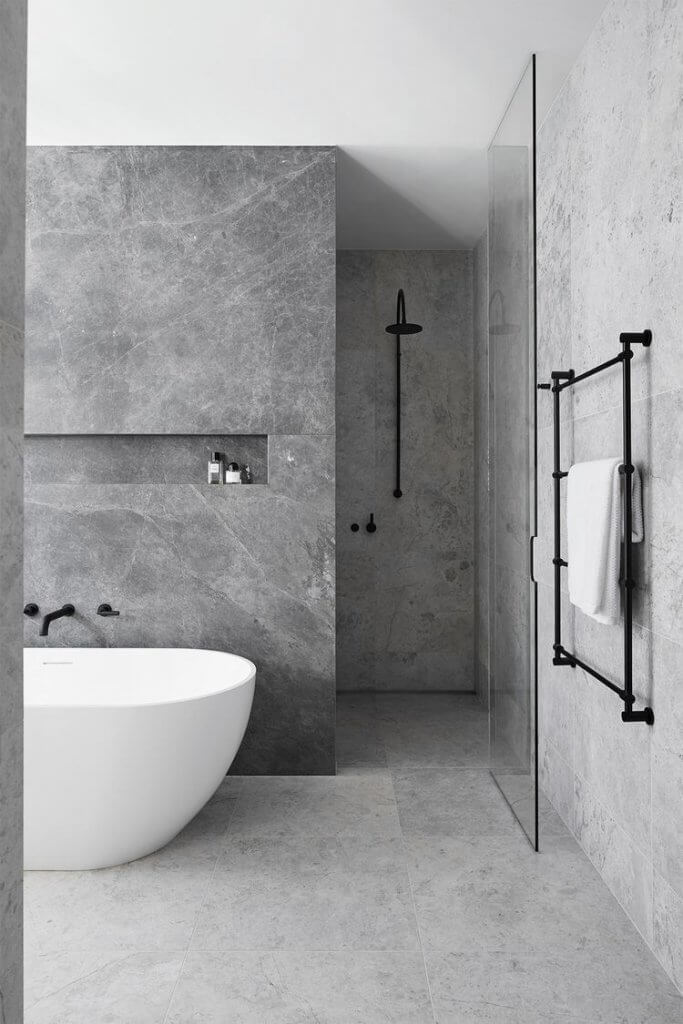 Certainly not the obvious choice, but greys can create a very warm, cosy feel. Something about the tone provides a sensation akin to being wrapped up in a warm blanket. It's also a very unique choice if you wish to separate yourself from the norm. Pairing grey walls with wooden and wicker accessories will also add a contrasting dimension that will only add to the warmth of the room.
Pinks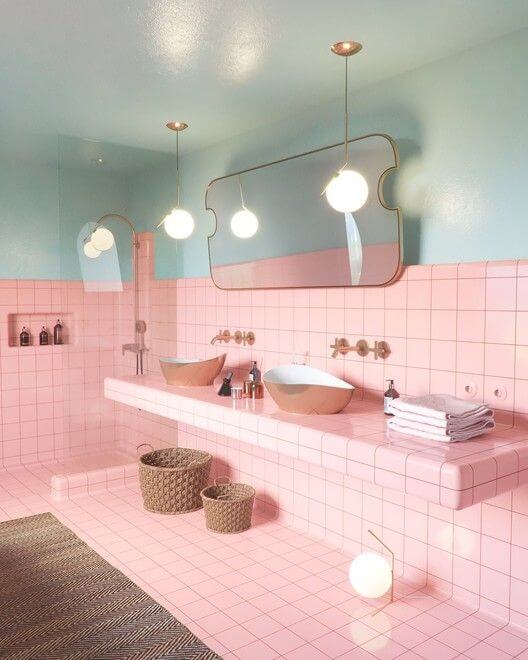 Pretty in pink. Although it's not for everyone, pink does yield an extremely vintage touch. However, we recommend opting for a lighter, softer pink as richer tones can be too overbearing for a bathroom setting!
Black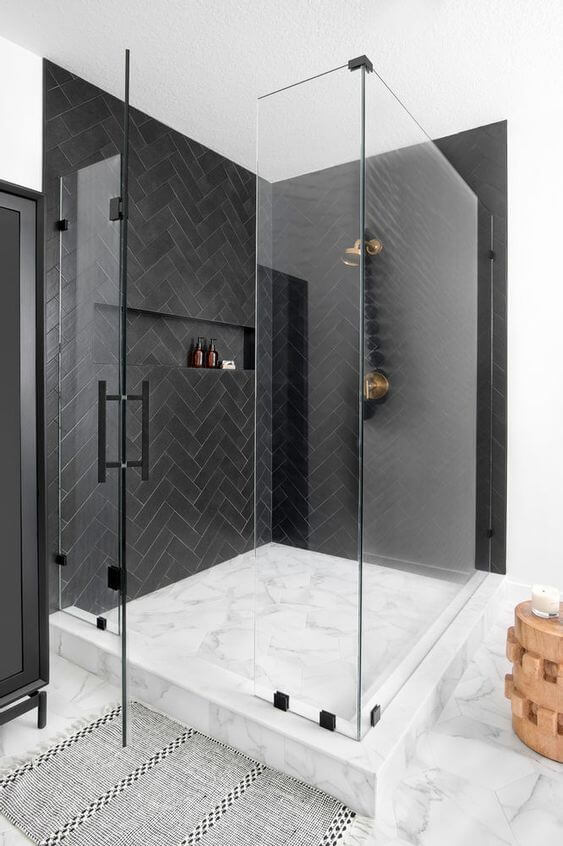 For a stoic look, black is the way to go. A fairly sizeable bathroom is needed to reap the benefits of the colour, as it could make smaller bathrooms feel a tad cramped. However, if you do possess a larger bathroom, pairing black with shining metallic accessories is a winning combination! 
Yellows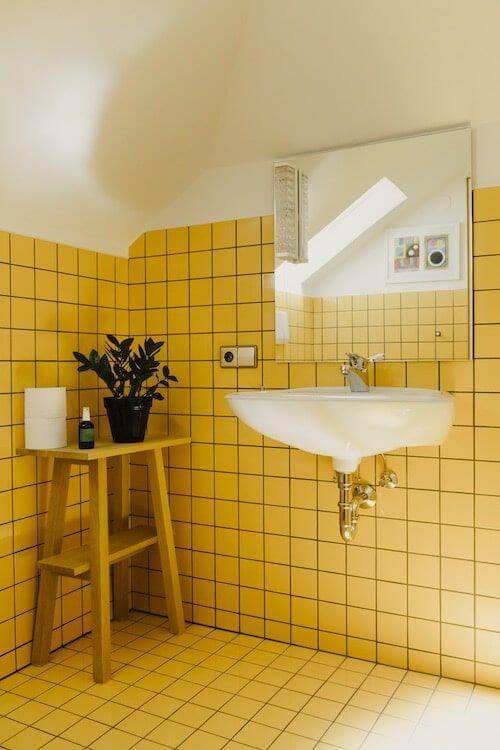 The colour yellow can brighten up absolutely any space in the house, and the bathroom is no different! With it being such a vibrant colour, yellow provides the rays of sunshine that may be lacking on cloudy days, and an added touch of warmth when you're having some R&R in the bath tub. 
Reds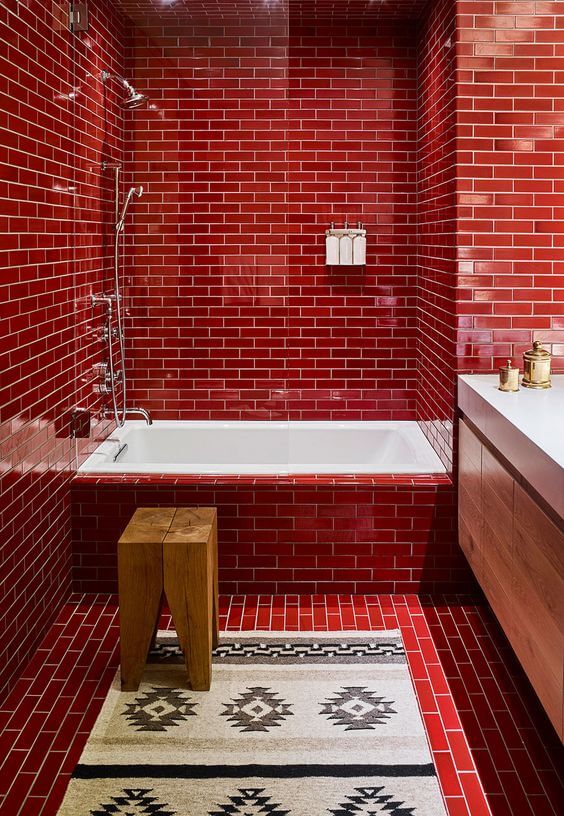 A daring choice some may say, but it will undoubedtly yield a bathroom with character. Imagine claret or scarlet bathroom walls, creating both an emotive and striking effect. Red is also the colour of love and romance, and can create an affectionate and embracing feel to the room that's very different from other colour schemes.
Greens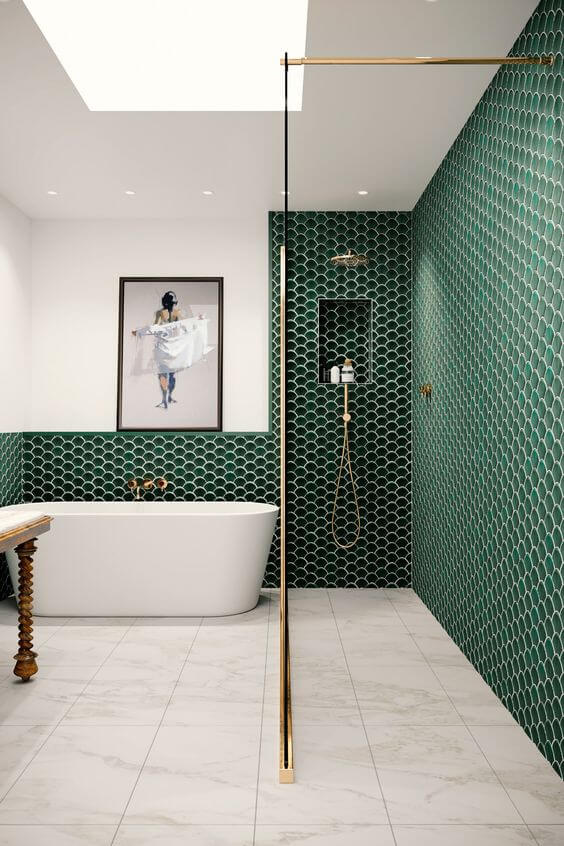 For those nature-lovers who want to bring the outside in or want to imagine bathing in a tropical paradise, green is a great choice of colour. Whether you opt for lighter or darker shades, they both illicit imagery of plant-life, growth and restoration. The latter is extremely beneficial after a hard day's work. Feel well-rested with this colour choice. 
Purples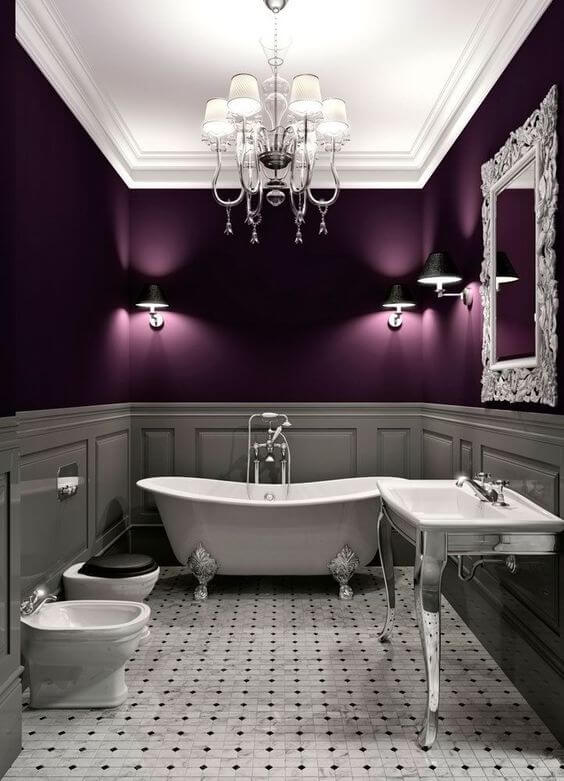 An intoxicating colour at times, purple can provide a very warm & cosy feel to a bathroom. Purples are also associated with opulence and regality, and can emit an unrivalled feeling of luxury. 
White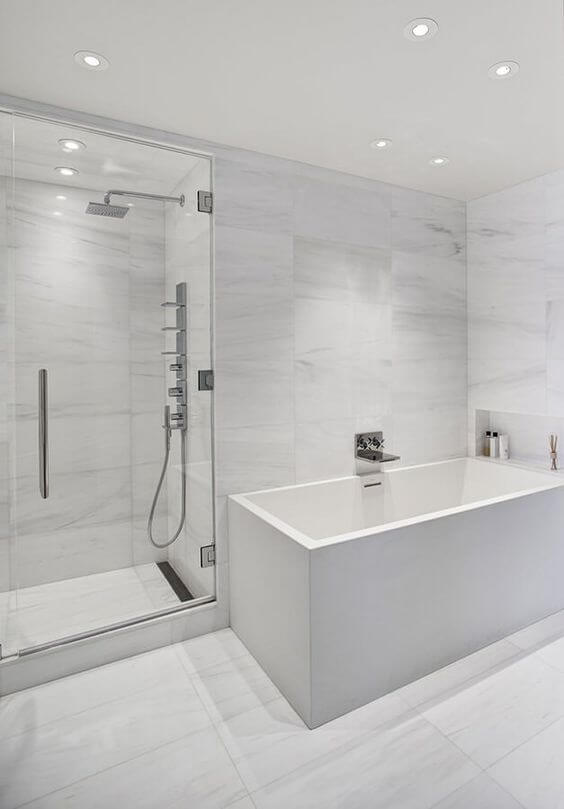 Sometimes the old ways are just the best. Bright, light and airy, the colour is a tried and tested method for making a room feel more spacious and it also evokes a feeling of unparalleled cleanliness. As an added benefit, white will always be the perfect match for porcelain baths and sinks.
Bathroom Flooring Ideas
Ah the bathroom floor…also known as the great multi-tasker. They need to be durable, water-resistant, anti-slip, a comfortable underfoot and easy to clean. On top of that, they also need be aesthetically pleasing to meet your visual needs. 
Luckily, there are many solutions that combine function with aesthetic. Let's go through the various options…
Bathroom Tiles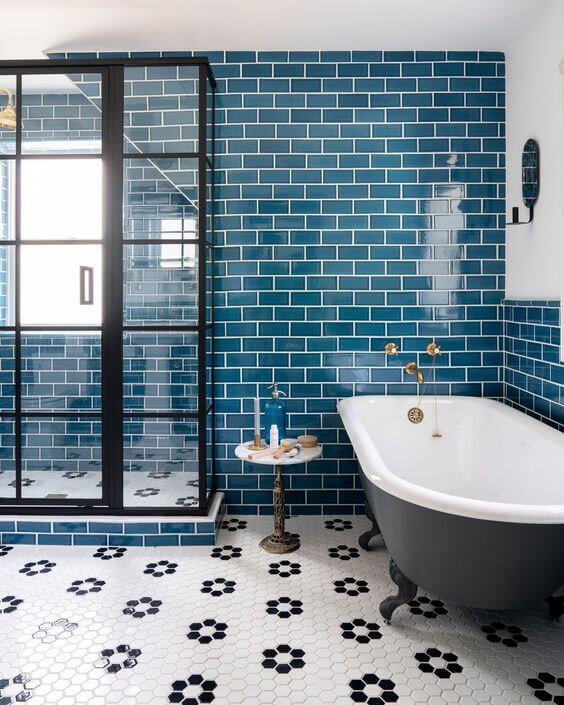 Tiles are a tried and tested choice when it comes to bathroom flooring. Easy on the eyes and oh so practical. There are tile options to suit all budgets, various design options to choose from and tiles are very hardwearing. As an added bonus, all you need to do when it comes to cleaning tiles is give them a regular wipe down. 
Bathroom tiles come in all types of material including ceramic, porcelain, marble, stone and more. Out of all of these materials, stone is certainly the most expensive with marble not too far behind. However, there's now a huge selection of ceramic and porcelain tiles that possess stone and marble-effect designs. You can get the aesthetic you want at a fraction of the price! 
Vinyl Bathroom Flooring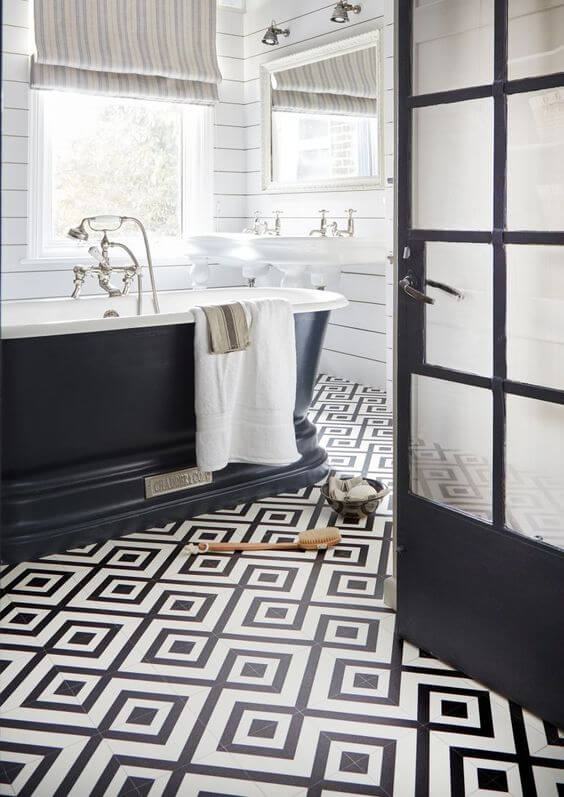 Vinyl is a popular choice when it comes to bathroom flooring due to its cost-effectiveness. Yet, there are additional benefits besides the price. Vinyl bathroom floors are water-resistant, slip-resistant and provide great insulation. So, they're a popular pairing with underfloor heating if that's part of your bathroom design vision.
It's also worth noting that vinyl provides an extremely comfortable underfoot and the material comes in a wide variety of styles & designs to replicate the look of much more expensive options. 
Bathroom Laminate Flooring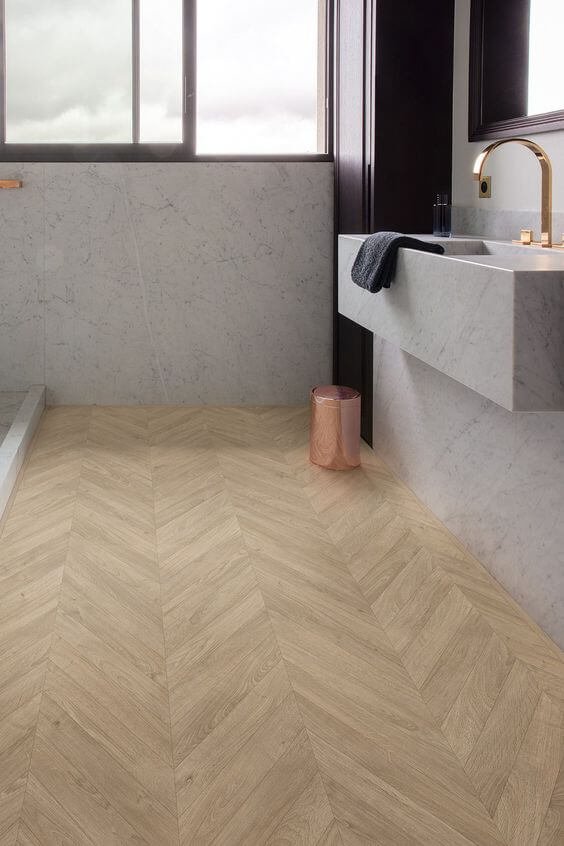 Laminate options are durable and easy to clean, but cheaper options are likely to not hold up that well against moisture. Water droplets tend to easily penetrate the surface layer causing the flooring to buckle, and start to lift. We would highly recommend opting for vinyl instead! 
Bathroom Wall Ideas
The walls of your bathroom are different from any other in the home. Living rooms, bedrooms, hallways and even kitchens, which are mostly dry, can have nearly every type of wall covering. Whereas, bathrooms require a little bit more thought as they are exposed to water & moisture from pretty much every direction. Here are a few choices that work very well in the bathroom environment…
Vinyl Wallpaper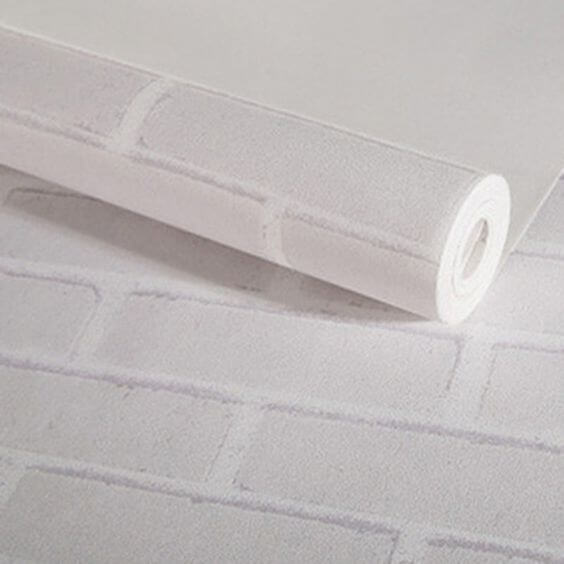 One of the best options for bathroom walls is vinyl-coated wallpaper, as it is very effective at combating indirect moisture compared to traditional wallpaper options. That's due to it's special layerings that makes it resistant to humidity and water. 
Bathroom Paint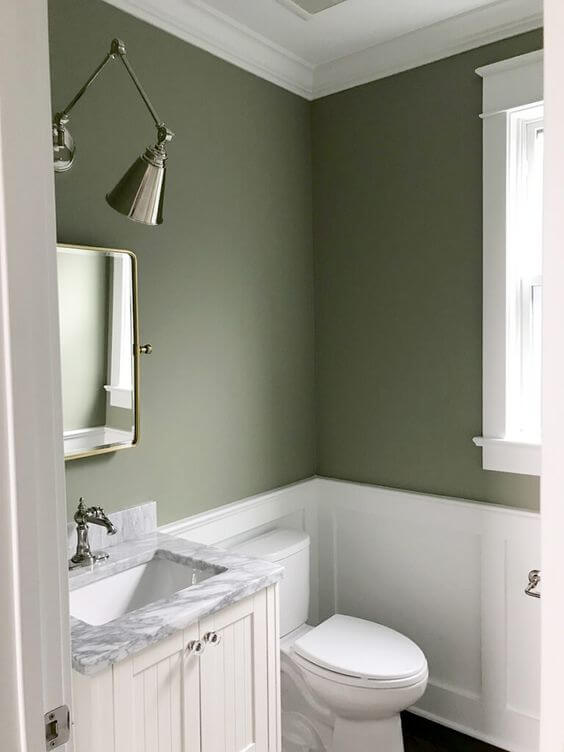 Bathroom paint is purpose built for the job. Unlike traditional options, this type of paint contains both mould & mildew-inhibiting agents and is made using a very high quality resin. When drying, the paint will form a very tight barrier so it won't absorb moisture from the air and decay. This is also a very inexpensive route as an added bonus! 
Tiles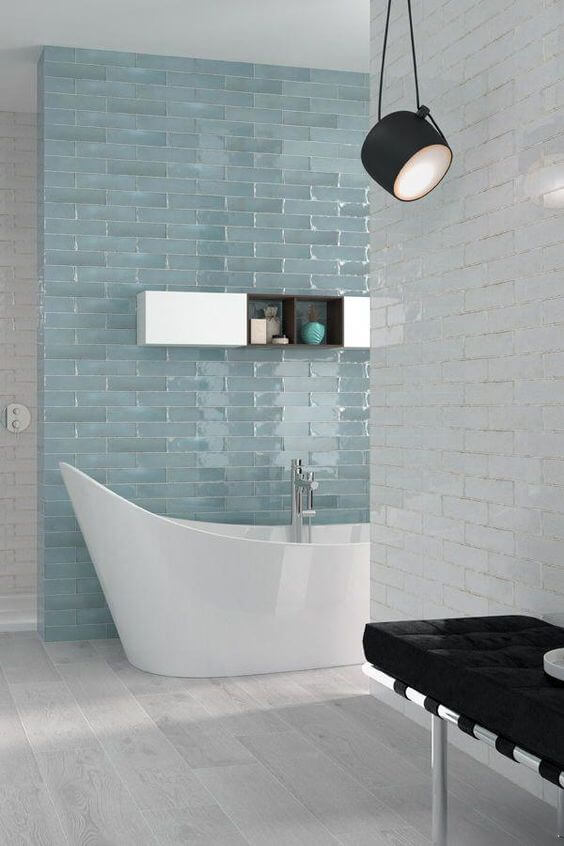 Ceramic tiles are a popular choice of bathroom wall. With tiles, as long as they are properly applied, you should never have a problem with moisture. However, you may want to think about the tile balance in your bathroom design. Too many tiles can make a room look a bit too busy, so we would recommend partially tiling a wall and using it as a feature, instead of the whole sha-bang!
Beadboard 
You will often find beadboards on the lower half of bathroom walls. They can be painted with bathroom paint, which provides added protection against moisture. It provides your bathroom with a very chic, classic look. So, if you're thinking about having a more contemporary design, this may not be the route for you! 
Bathroom Lighting Ideas
When thinking about your bathroom lighting, there are three main aspects to have in mind. Functionality, practicality and style. Without ticking all three of these boxes, you will have unsatisfactory lighting in one way or another.
Spotlights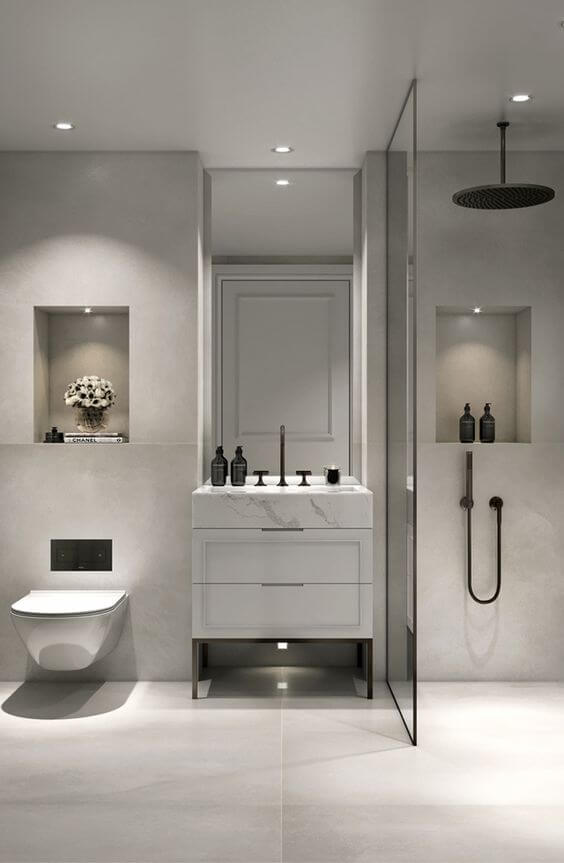 From the ceiling, spotlights are one of the most popular choices due to their practicality. They can be placed in either a grid format for even lighting spread, or have them located in areas where you know the most light will be needed.
Pendant Lighting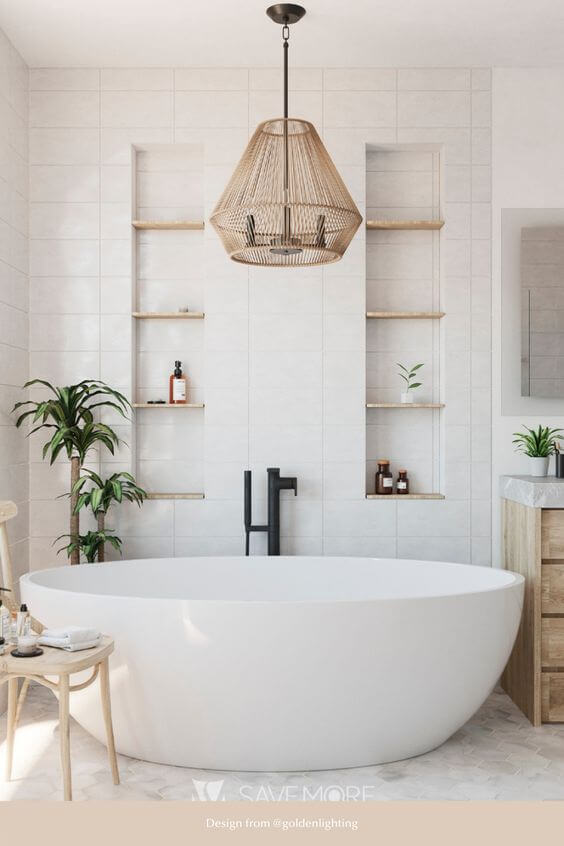 Another option would be utilising pendants which hang from the ceiling. They can provide good lighting coverage and are very aesthetically pleasing when done right. For those that really want to make a statement with their bathroom design, this could be the way to go!
LED Lighting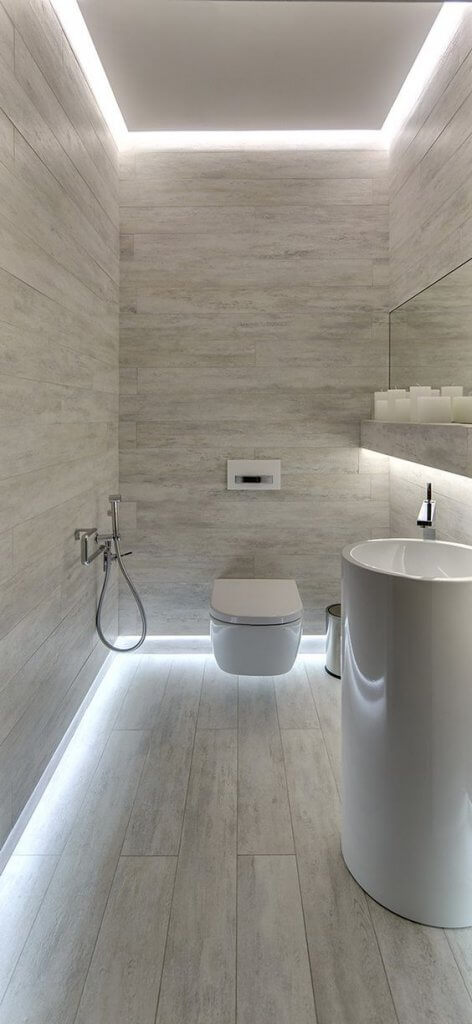 If the aforementioned options won't provide the amount of lighting coverage you desire, the perhaps the addition LED lighting can fill the void? These strips of light can be subtly placed under mirrors, cabinets or along flooring edges to ensure that your bathroom lighting packs an extra punch.
Task Lighting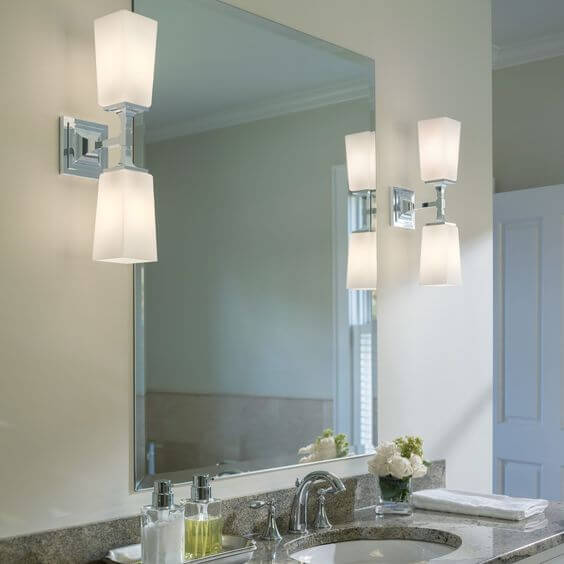 Usually, task lighting refers to lighting around mirror areas. Activities like shaving or applying makeup require ample amounts of light on either side of your face, so you want to be well-catered for. One way to do this is via the previously mentioned LED strips or mini-pendants. However, we'll come onto another option below. 
Wall Lighting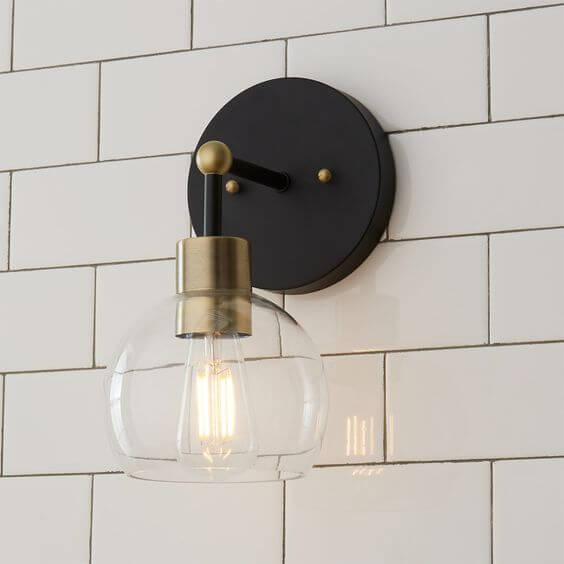 Wall lights are a great option to provide ample light for tasks and for their aesthetic benefits. When placed strategically, you can create specific focal points for light with the added benefit that many wall lights can be adjustable. The freedom to move light to match your needs should not be overlooked!
Bathroom Shower Ideas
Whether you're the kind of person who gets up extra early to take a long, soothing shower in the morning, or the type have a rapid cleanse after hitting the snooze button on your alarm too many times, both individuals deserve a satisfying shower experience! To achieve that, it's all in the quality of your shower set up. Here are a few ideas…
Walk In Showers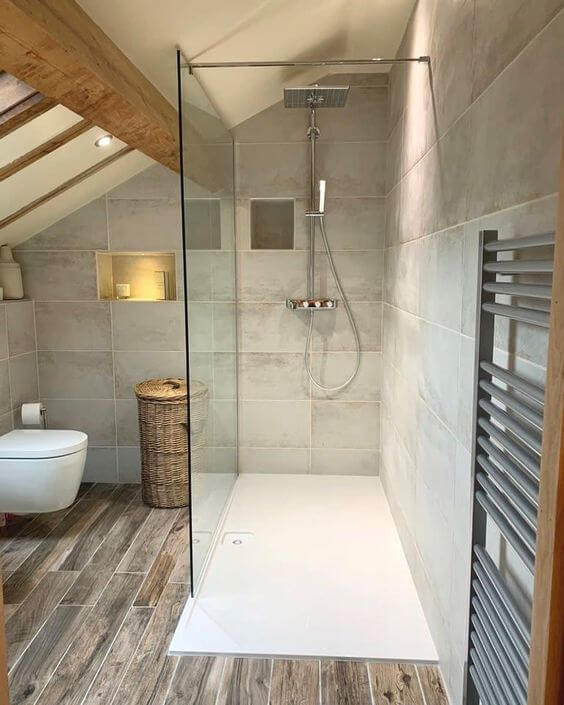 Walk in showers are very much in vogue. They're practical and attractive for both larger and smaller bathrooms, and serve as the perfect middle ground between an open-plan wet room and a shower cubicle. Low level access combined with a freeing amount of shower space. 
Wet Room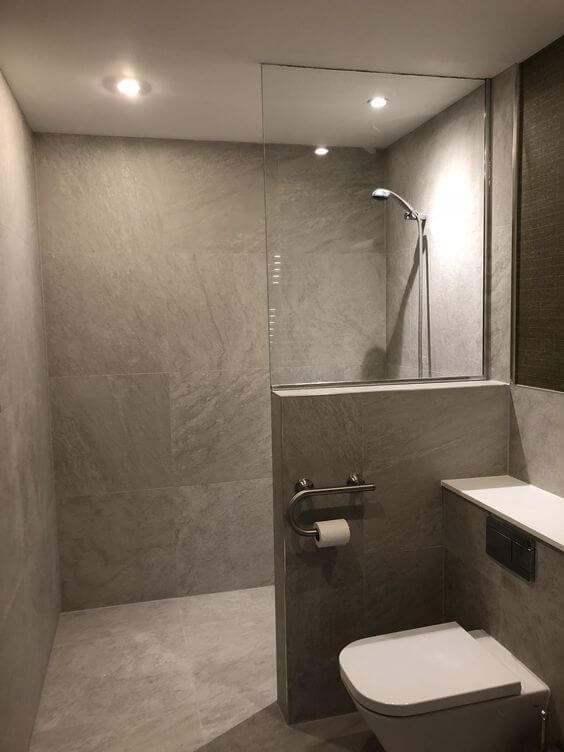 A wet room is where your entire bathroom is completely waterproof, open-plan and has a central flush drain in the shower area which allows water to easily flow out. Everything is on the same level as the rest of the floor, and they can create the feeling of a much larger space.
Bathroom Window Ideas
When it comes to bathroom windows, one thing you need to think about is privacy. For that, there are many solutions at hand…
Bathroom Curtains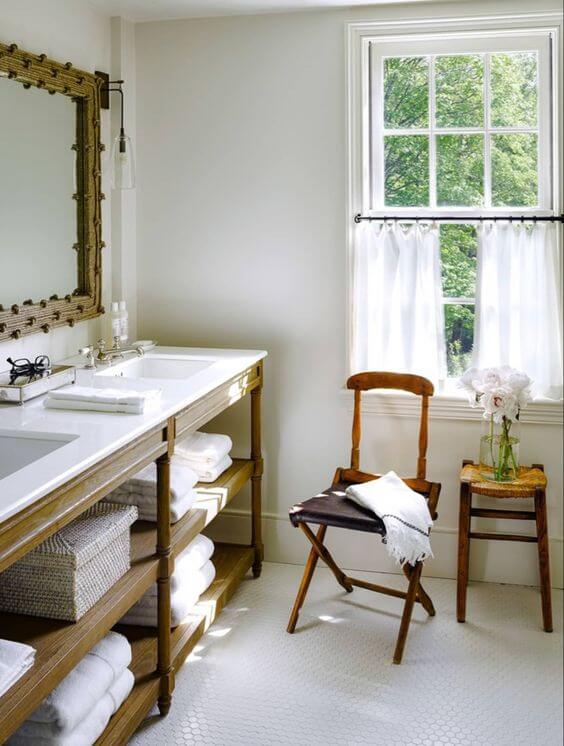 A simple choice is to simply install some curtains. However, you don't want to cut off natural light completely to the room, as that can ruin the ambience. Therefore, opt for light bathroom curtains instead so you can maintain privacy without sacrificing brightness. Light colour fabrics should do the job just fine.
Blinds or Shutters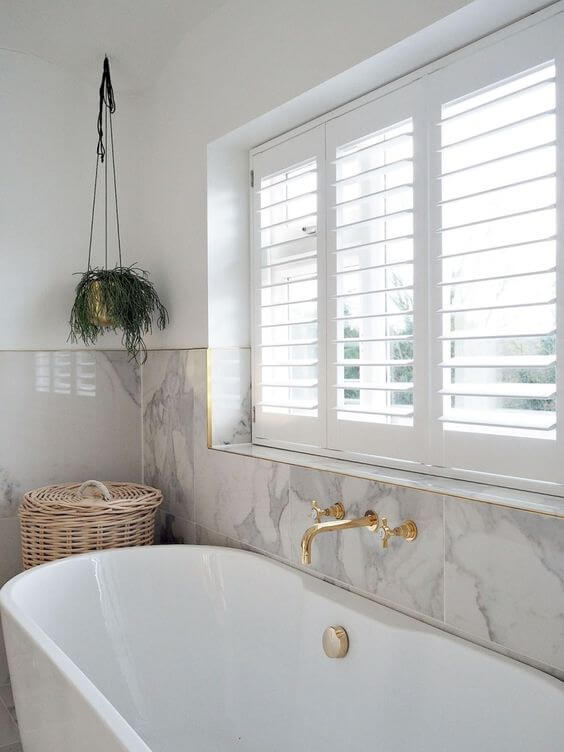 For a very sleek look, blinds and shutters are a great alternative to curtains. You will face the same issues regarding natural light, but the blinds and shutters can be adjusted to still let light in whilst also still maintain your privacy i.e. have them open half way.
Frosted Glazing or Frosted Window Film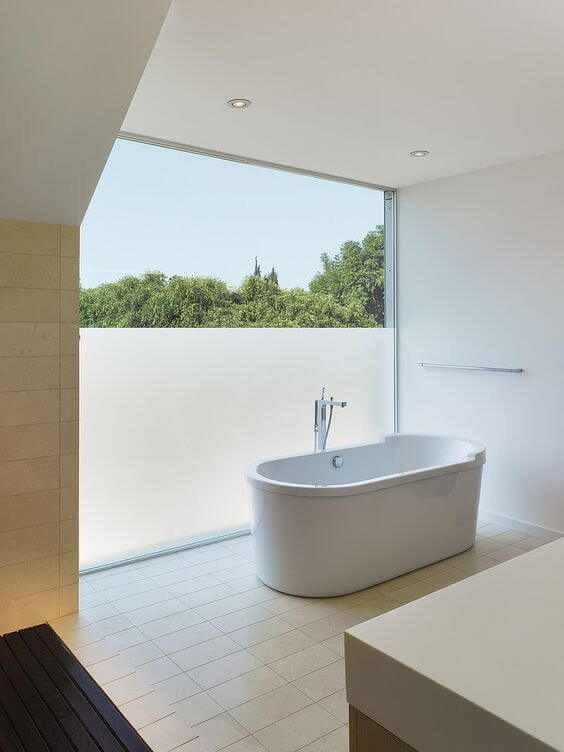 A solution many tend to choose for convenience is frosted glazing or frosted window film. This ensures complete privacy at all times, whilst still letting lots of natural light into the bathroom space. The glazing and film options also come in a wide variety of patterns which add a nice aesthetic touch to your bathroom decor.
Bathroom Storage Ideas
The bathroom is arguably the trickiest room in the house to get storage right. You need to store all manner of bits and bobs, which can become extremely cluttered if you're not too careful. Here's a few tips & tricks we think you'll love…
Towel Storage
Towels are one of the bulkiest items to store in your bathroom, so you may want tot think about some optimal storage ideas for clever de-cluttering. There are multiple ways to store and display towels, which can serve as the perfect finishing touch to your bathroom decor. 
Wall Hooks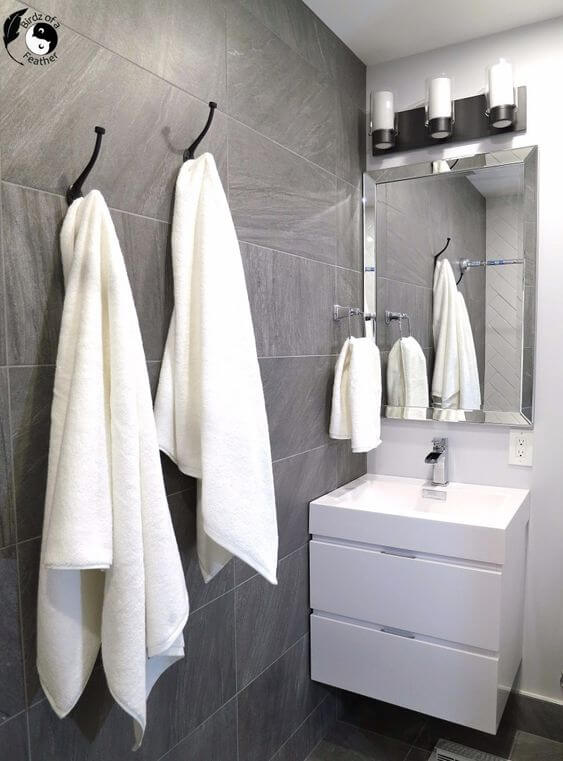 If you want to keep things simple, elegant and practical, wall hooks are a brilliant option. It's also a very inexpensive option, and you can easily choose the colour of the hook to match up to the rest of your bathroom's aesthetic! 
Towel Rail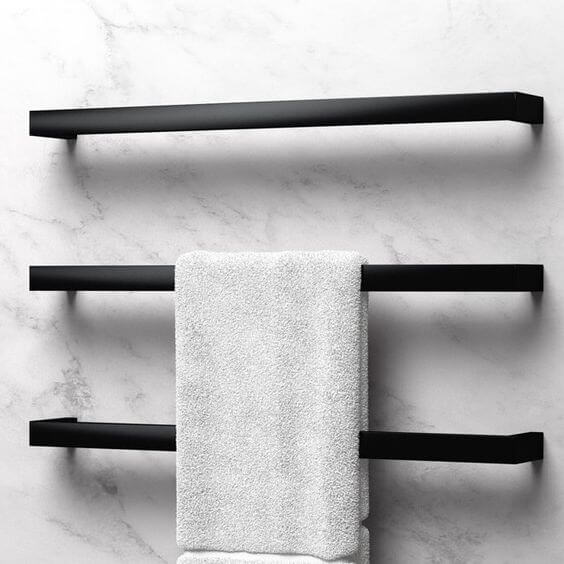 A tried and tested option is the good old towel rail. There are a plethora of styles and designs to choose from, and the rail can be elegantly fixed to one of your bathroom walls for a very space-effective way to store your towels. For that extra bit of opulence, you could choose to install a heated towel rail for that warm and cosy post-shower or bath feel.
Built-In Shelves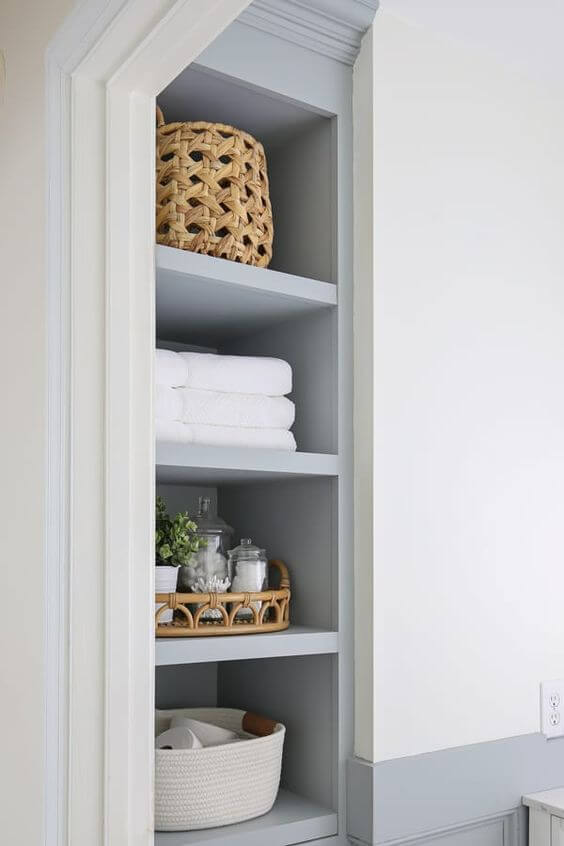 Sometimes, bathrooms aren't perfectly square or rectangular. Often, they have portions of space which many don't utilise properly. However, these are the perfect locations for some built-in shelves, where you could efficiently store your towels!
Decorative Shelving Unit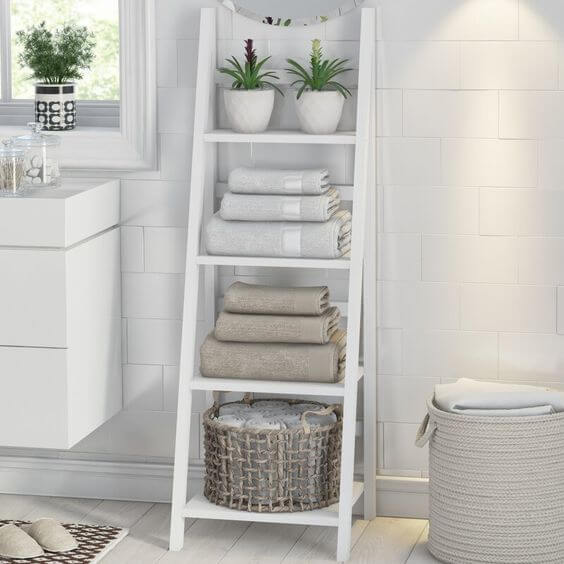 Freestanding shelving units have become quite popular at the moment. Not only do they offer a lot of storage space, you can also make use of them for decorative purposes. You can pair the colour of the unit to match your decor for a great touch.
Baskets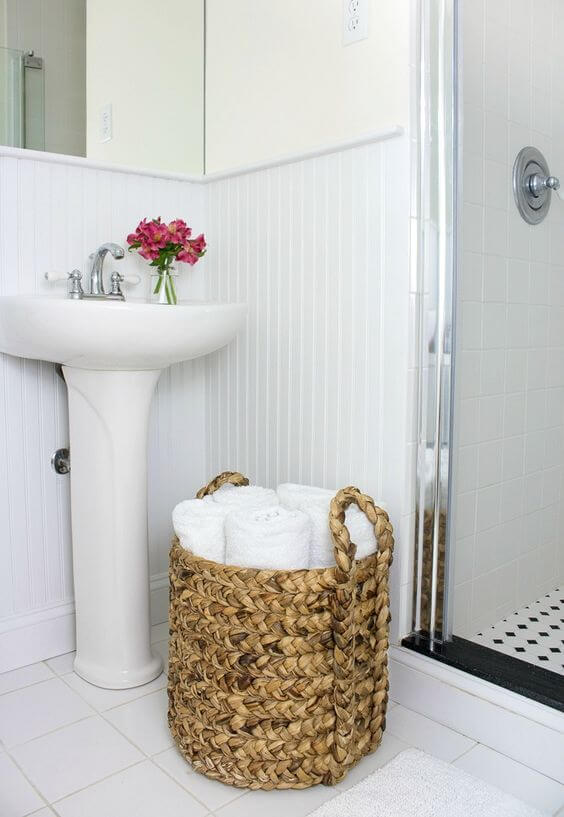 Wicker baskets provide a warm, cosy feel and are pretty versatile when it comes to suiting various bathroom designs. Even in the most contemporarily styled bathroom, baskets won't seem out of place and it's a great way to add natural materials and textures to counterbalance ultra modern elements of a bathroom. They're also a great place for towel storage. 
Cabinets or Large Drawers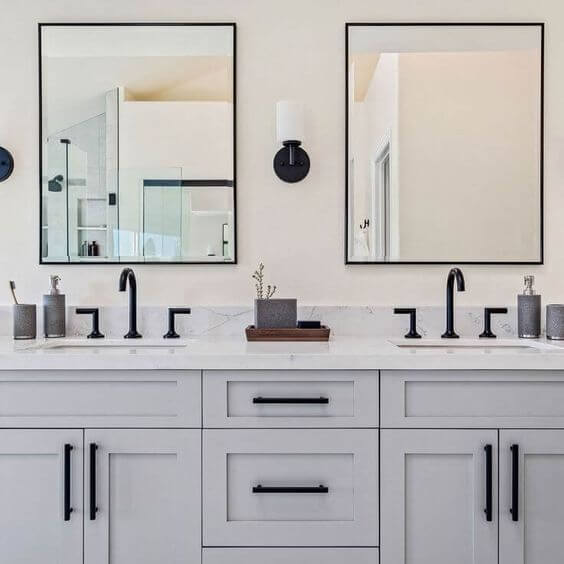 Storing towels in cabinets or drawers is another great option. However, you need to make sure that they are large enough to cater for the chunkier towels you may possess. Therefore, a great location for this storage solution would be under the sink.
Toiletry Storage Ideas
For toiletries such as toothbrushes, deodorant, hair gel, make up etc, you'll want these objects in close proximity to one another, as they're all needed for you to get ready in the morning. Therefore, it would be convenient to have them all in the same space. Here are some ideas to make that happen…
Mirror Cabinet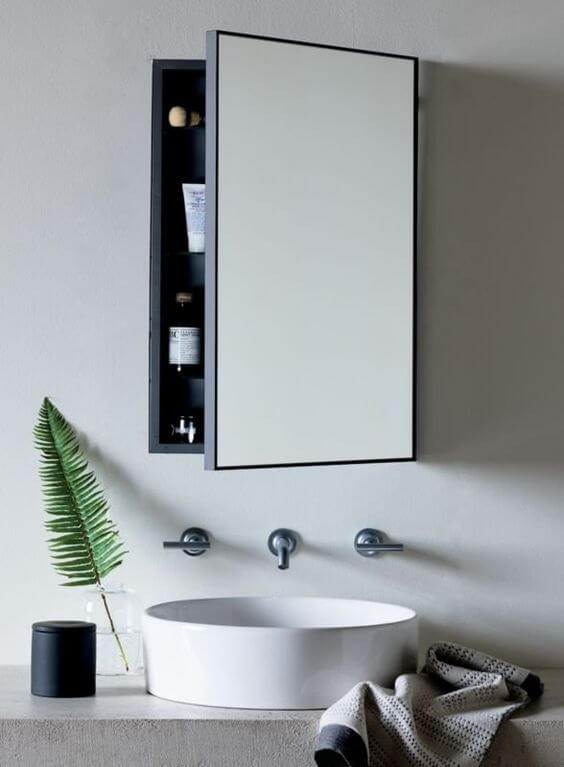 A brilliant way to avoid the clutter of toiletries is to have them concealed behind your mirror, and easily accessible with a push latch system. This is where you can open the mirror cabinet by gently pressing down on it, as opposed to using any handles. Great for when you're in the middle fo the "getting ready" process, and need to grab something whilst having gel or makeup on your finger tips.  
Lidded Boxes Inside Drawers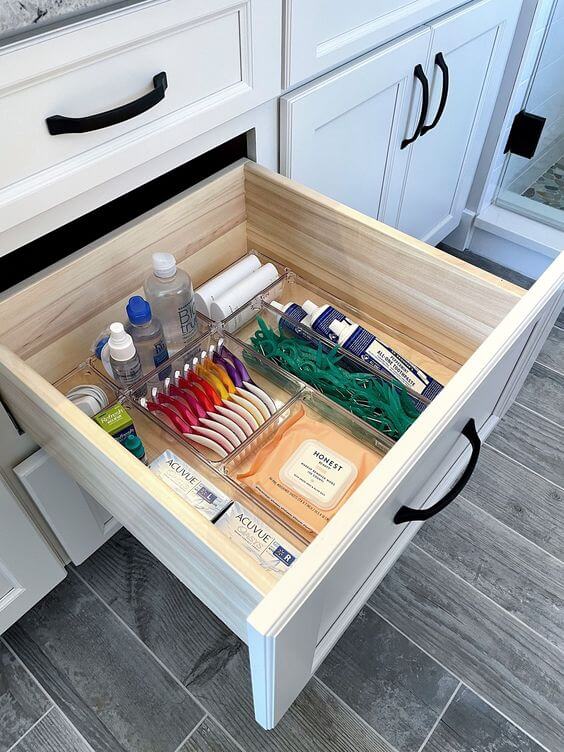 Drawers are another great option but there is the risk of staining the inside with certain toiletry items. However, this is where lidded boxes come into play. Usually made out of plastic, your can avoid stains by having compartments for each of your toiletries. Simple, effective and the boxes are a breeze to clean when you need to.
Above-Sink Shelving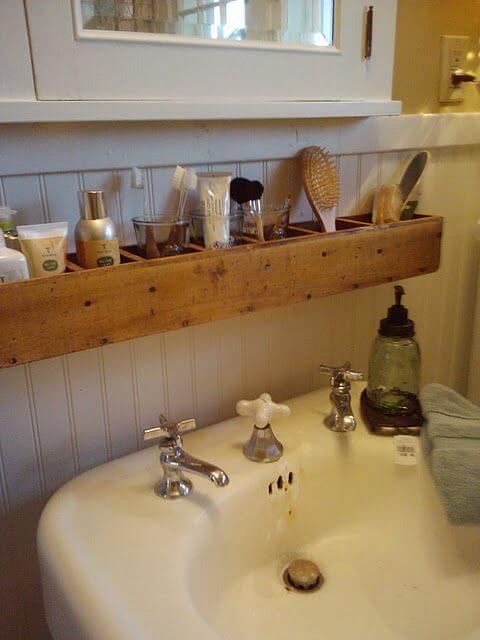 Another fantastic option is above sink shelving. Have all of your items in sight and right in front of you when getting ready. Just ensure that you give this shelf a regular wipe-down as it's likely that there will be a few spills each week, and you'll want to keep the shelf looking as fresh as can be!
Various Holders With Suction Cups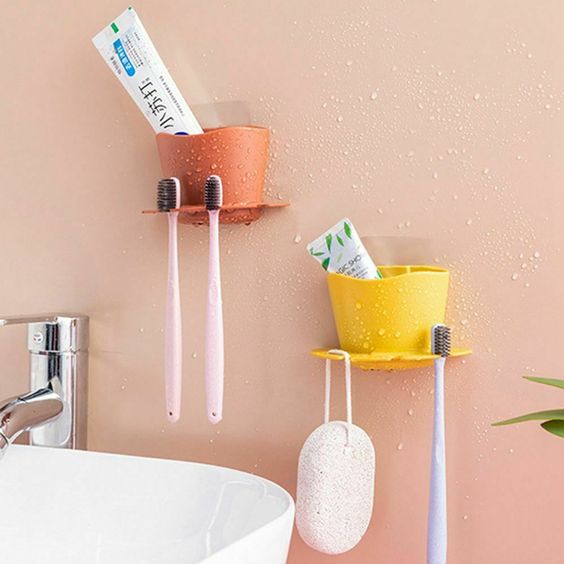 A fantastic choice for families is having allocated holders for each family member. These plastic or metallic holders or baskets will likely come with suction cups that you can simply stick onto the correct section of your bathroom wall with minimal fuss. Cheap and practical! 
Shower Storage Ideas
Moving on to where to place you soaps, shower gels, shampoos and conditioners…
Built-In Recess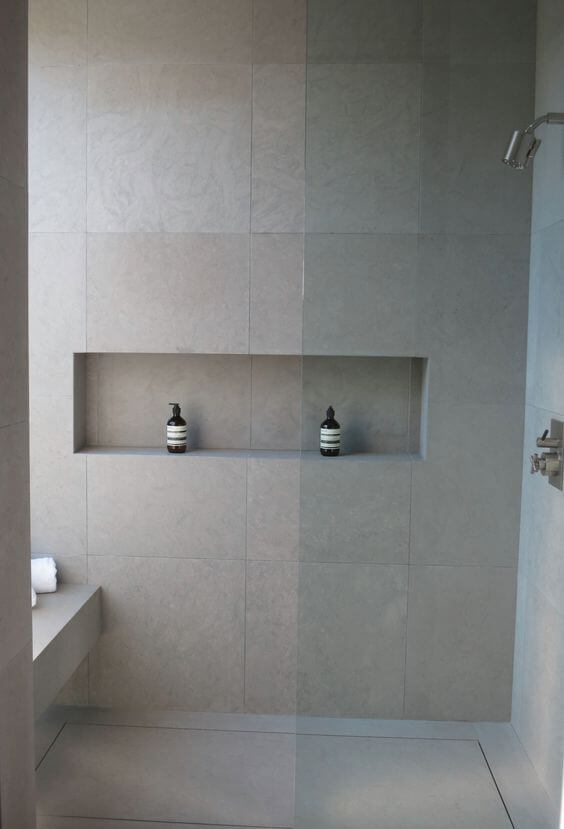 Recesses are when you purposefully build a section into one of the walls in your shower or bathing area. It's a very clever way to get the most storage bang for your buck in a bathroom design. You just need to make sure this is discussed during the early stages of bathroom planning, as it may have an effect on where pipework may need to arranged. 
Corner Shelving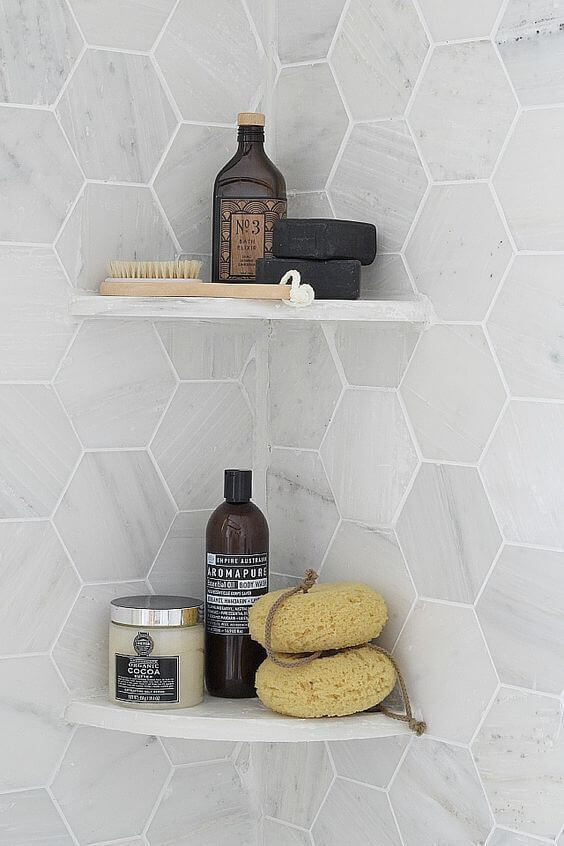 Another space efficient storage choice for showers is corner shelving. Inoffensive, neat and you can have two or three shelves to maximise space for all your required shower items. For an ultra-clean look, opt for seamless fixings that won't interrupt your decor in any way. Top tip! 
Hanging Shower Caddies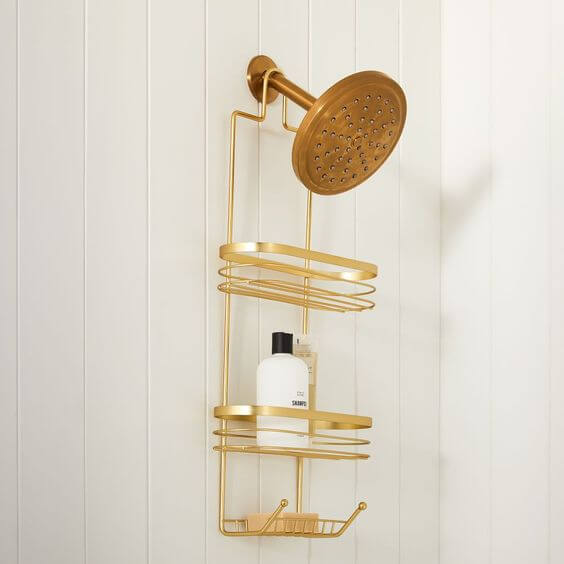 Our final shower storage option would be hanging shower caddies which, unlike our other options, is a more flexible storage solution. No deep thinking, planning or fixtures are necessary. You simply place this onto your glass shower door, shower head, or some options come with suction pads, and you're good to go. Instant zero hassle storage! 
Bathroom Accessory Ideas
Time for those finishing touches! Accessories are the cherry on top of the cake that provide those final beautifying effects, to add that extra element of character or a sprinkle of your personality into your bathroom design. 
Plants
Whether it be real or artificial, plants have a hugely transformative effect on living spaces. They instantly freshen up and environment, especially if you opt for real plant-life as they can quite literally oxygenate the room, and provide an added natural pop of colour to your bathroom. Floor plants, hanging plants or plants in vases are all great options to place around the room!
Bath Mats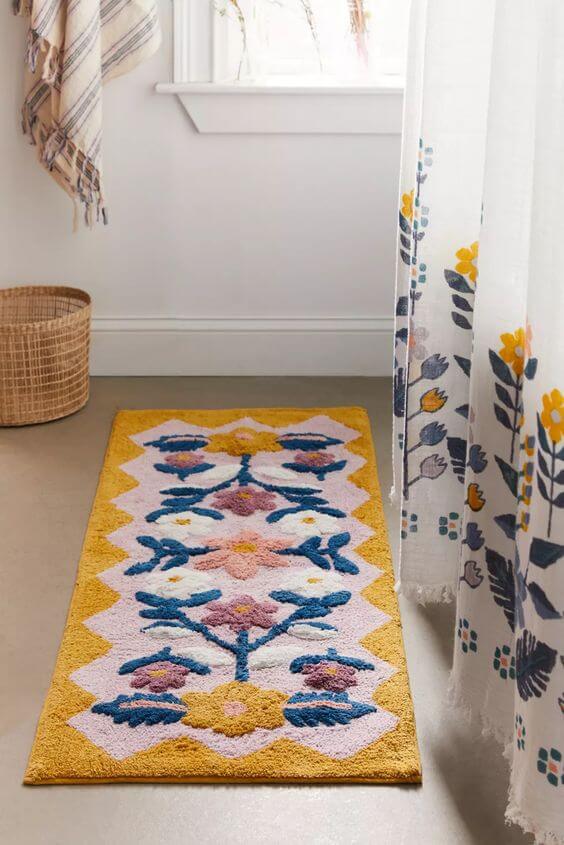 Bath mats are an absolute essential in bathrooms in our opinion. Not only do they provide a safe haven for you feet when stepping out of the shower, you can also make use of their decor potential. Opt for a bold bathmat colour to either fit in perfectly with your colour theme or, use this as an opportunity for a contrasting element.
Artwork
Artwork is a natural fit for any room in the house, and the bathroom is no different. We recommend choosing serene settings such as mountainous ranges, a beach or coastal view or a landscape of the countryside. All will make for an extra soothing touch to your bathroom decor, and can provide an added touch of escapism as you can gaze into the art whilst taking a bath.
Mirrors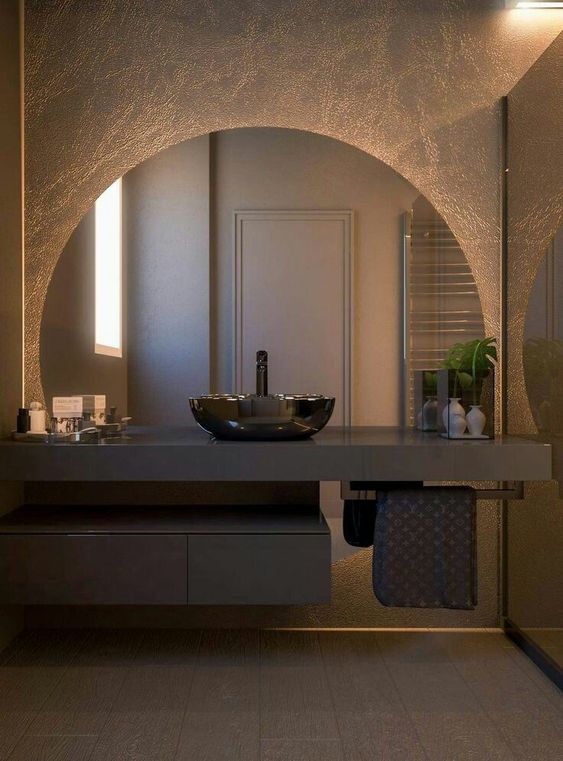 Mirrors come in all manner of shapes and sizes, and your liking of each is very subjective. So, we're not going to talk about that here. What we are going to mention is fog-free shower mirrors which are an inexpensive must-have convenience. Never have the annoyance of having to deal with a steamed up mirror post-shower which slows down your process of getting ready!
And That Was Our Guide To Modern Bathroom Ideas For 2022
There you have it! A comprehensive guide to modern bathroom ideas. We truly hope that you've found this guide informative, and that you now have a clear vision of what you need to do in order to make your dream bathroom a reality. 
At West Midlands Home Improvements, we pride ourselves in being a home improvement company who can take absolutely any residential renovation project from inception to completion. Everything, including finishing, plumbing, electrics and plastering is conducted in house and we never outsource. With us, you can rest assured that you're in safe hands, and you can browse our regularly updates social pages to see our latest work. Check out our Facebook or Instagram pages to see the pics and videos of our recently completed projects! 
We also have a wealth of experience in creating bathrooms of all shapes & sizes. We deeply understand the fine balance of getting the balance of aesthetics and practicality just right, and that the room caters for the many demands of a family. 
If you have absolutely any questions or queries regarding bathroom ideas, whether it be on the interior design or construction side of things, get in touch with us today!