Kitchen Extension Ideas: The Ultimate Kitchen Design Guide
If you're looking for the most extensive kitchen extension guide on the internet, you've come to the right place!
A kitchen extension can be one of the most impactful home improvement projects. After all, it's often said that "the kitchen is where the party's at" and those who utter this phrase are not wrong! It's the room for cooking, dining & socialising and when added up, you, your family and friends undoubtedly spend a great deal of time there! It is the true heart of a home.
Renovating the room will certainly make a noticeable difference for all who frequent your household. With this in mind, you want to make sure that your extension ticks all boxes from the initial design all the way through to the build & fitting.
To give you a helping hand, this guide will cover absolutely everything you need to know about how to craft the perfect kitchen extension for your home.
If you require further assistance after finishing this blog, do get in touch with the West Midlands Home Improvements team today! We've built and installed thousands of kitchens across Birmingham and the West Midlands; many of which you can have a gander at in the gallery section of our kitchen extension page. We also handle all planning permission and architectural drawing requirements as part of the WMHI service.
Without further a due, onto the blog…
Different Types of Kitchen Extensions
The first tidbit of useful information to know is that kitchen extensions come in all manner of shapes and sizes, in order to suit various types of homes. The kitchen extension that you'll be able to have will depend greatly on the shape of your property. However, no matter what type of house you possess, industry innovations now allow homeowners of virtually any property to build their dream kitchens.
Rear Kitchen Extensions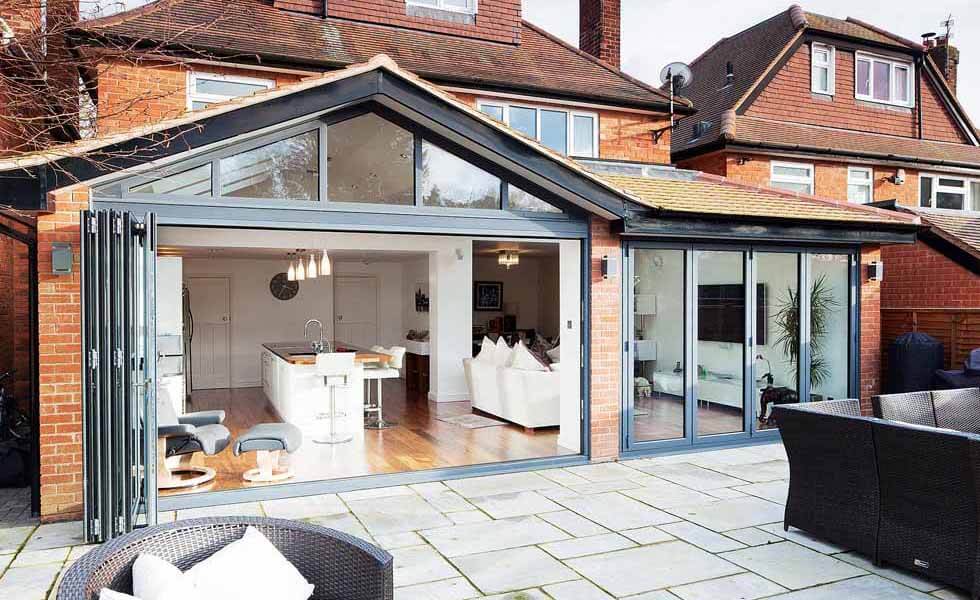 For terraced houses, a rear extension is a fantastic solution. This is the type of extension which utilises the available area at the back of a property, in order to create additional living space. A rear extension is a particularly good option if you desire a kitchen with an islands or an open plan living space, which are becoming all the rage these days!
For those not in the know, an open plan living space tends to be zoned into three areas. A kitchen, a dining area and a seating area, with no walls in between. An airy, spacious arrangement that's perfect for entertaining guests as mingling can occur in the various parts of the space.
Side Return Kitchen Extensions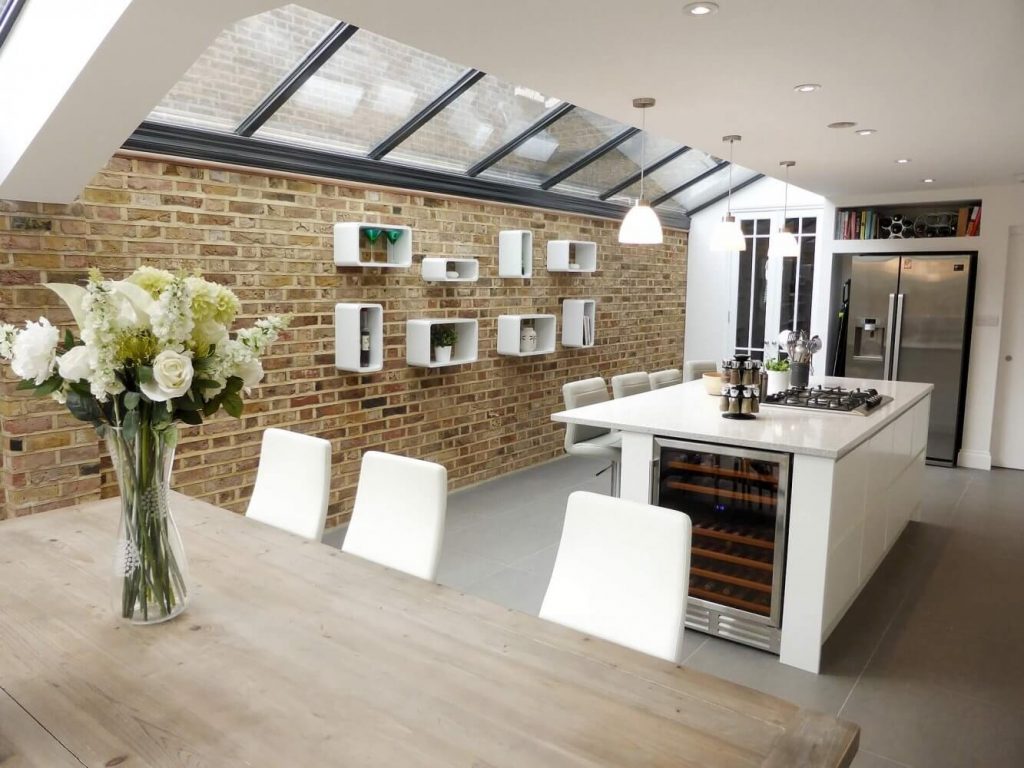 For semi-detached homes, side-return extensions are a very cost-effective method for generating additional space for your kitchen. If built cleverly, side returns can provide more space than you think…or at least to your eyes. By using bright colours and fitting in skylights, natural light will flood the area creating the illusion of much more square footage than there actually is. The new space built in place of the side return is often a great location for a dining table or island.
Wrap Around Kitchen Extensions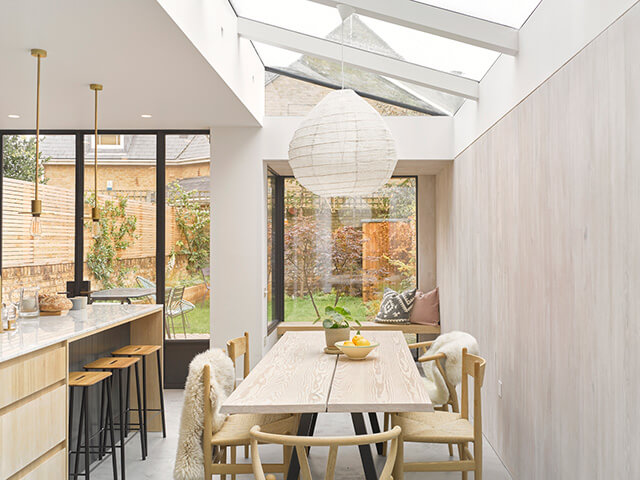 if you really want to maximise space, a wrap-around extension is the best course of action! This is where a side return extension is combined with a rear extension, suited for semidetached or detached properties. These types of extension have the most dramatic impact and can completely transform your home, as well as how you use your living space.
You'll want to make sure that the central rooms in your home still receive a lot of natural light, which is why we recommend including strategically-placed skylights or light wells in the extension. Bi-folding doors or wall-to-wall windows are another great natural lighting option to utilise, especially if you want to add an extra 'wow' factor to your extension. Either of those two options really make a statement!
What Colour Should Your Kitchen Extension Be?
Now that we've got the type of extension out of the way, we can move onto the second most important factor…the colour! As you'll be spending a lot of time in your brand new kitchen extension, you'll want to make sure that the colours in the space give off the desired ambience, and fit the interior design decor look which you're trying to achieve.
Your kitchen extension colour choice should obviously follow personal preferences but, there are certain recommendations to adhere to. For example, interior designers rules state that very dark colours, cold neutrals and other cooler colours like blues, greens and violets should be used carefully in a kitchen. Why? Because they don't promote hunger. The exception to this rule is black as it can ensure a timeless contemporary space, especially when paired with contrasting colours and stainless steel appliances.
Let's explore a few options….
Black Kitchens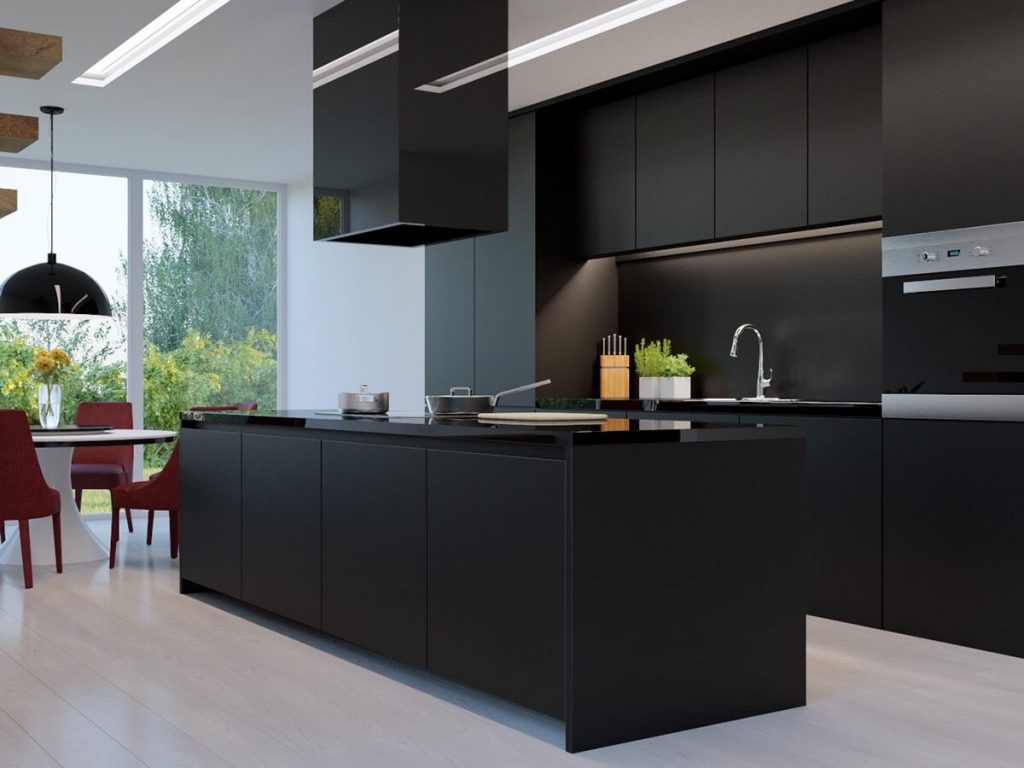 We've described how a black kitchen can be a fantastic option above but here's an image for your inspiration purposes!
White Kitchens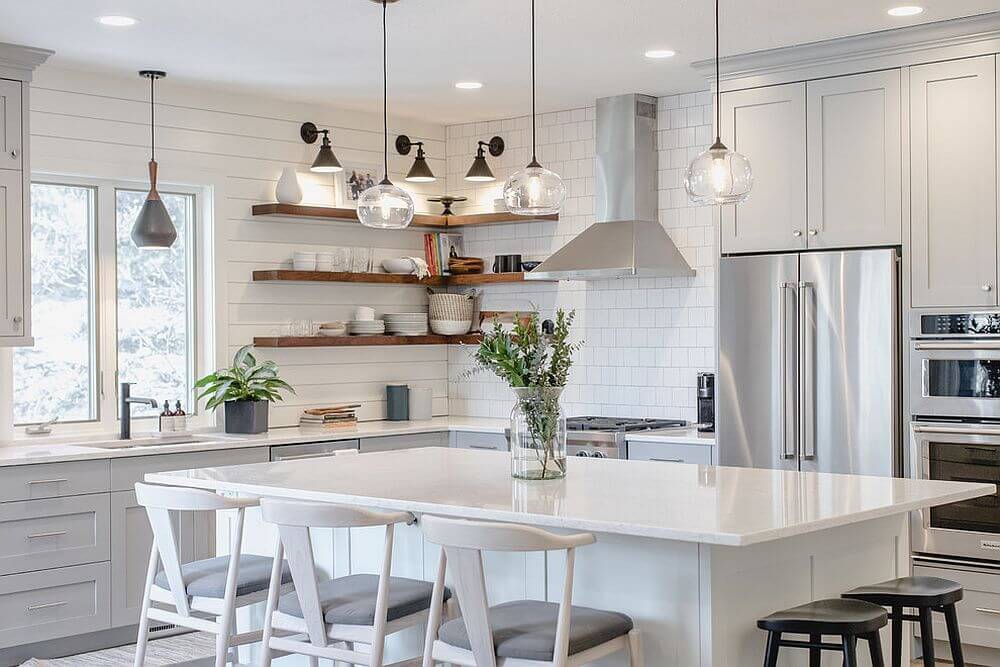 For a fresh, clean feel, a bright white kitchen is a great option. It creates a light, airy and spacious ambience that comes across as very classy. White can also be paired with literally any colour, so your colour scheming schemes are virtually limitless!
Cream Or Warm Neutral Kitchens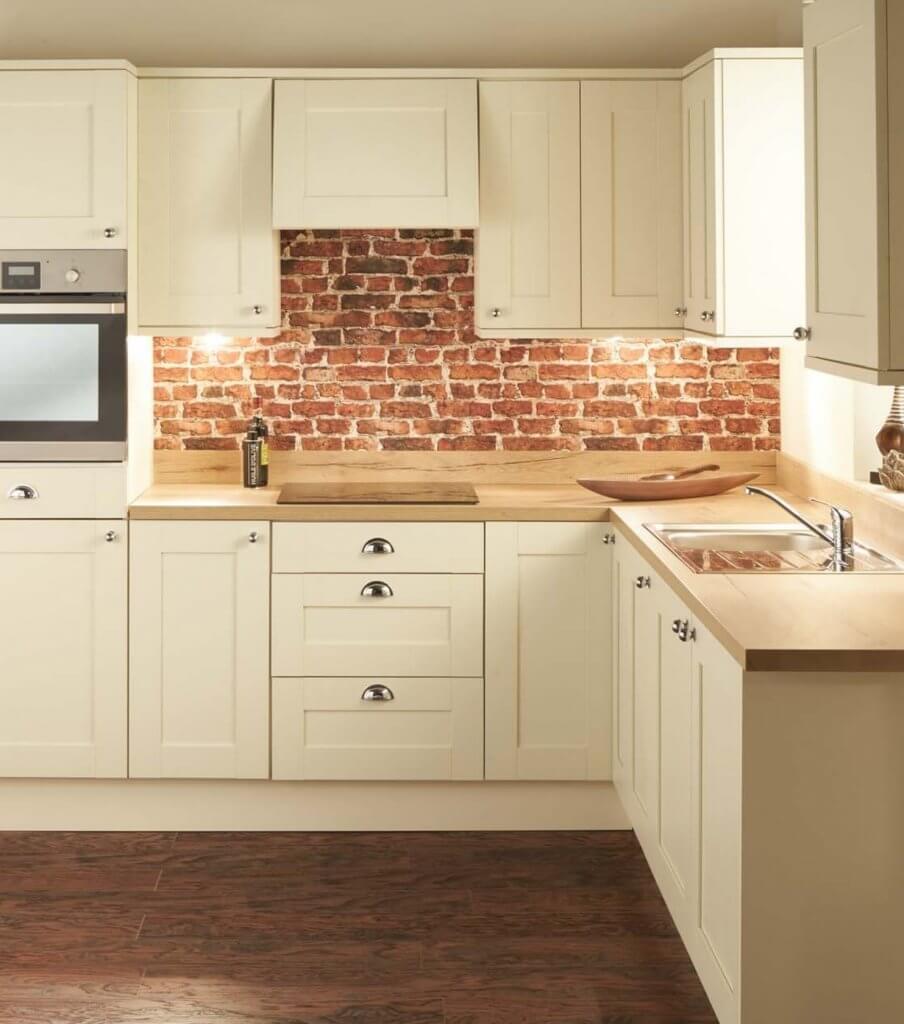 The neutral realm of colours, including creams and magnolias, work fantastically well when combined with hints of darker tones. Dark wooden tables & furniture accompany neutral colours especially well, creating a very warm, cosy feel for your morning breakfast.
Red Kitchens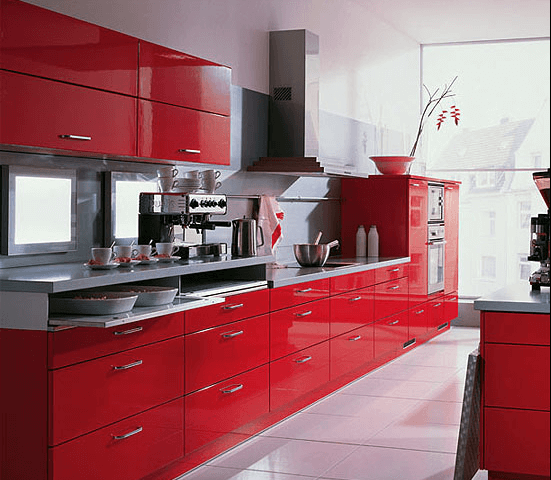 Red is a very provocative colour, and is even said to stimulate the appetite. It's why the colour is so often found in many restaurants. Although red isn't for everyone, the many shades make for either beautiful walls or striking cabinets. Certainly a focal point for the eyes.
Brown Kitchens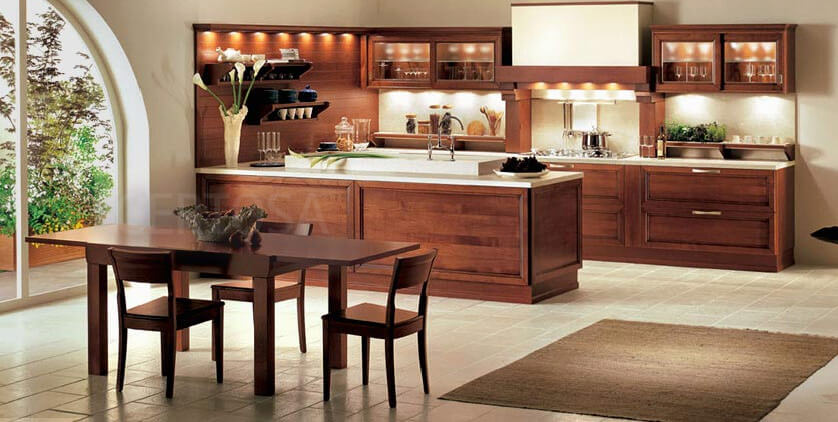 Browns symbolise the earth, where our food is nurtured and grown. So, why not opt for some earthier brown tones for your kitchen? Rich browns are a very appealing choice when paired with a more neutral colour.
Yellow Kitchens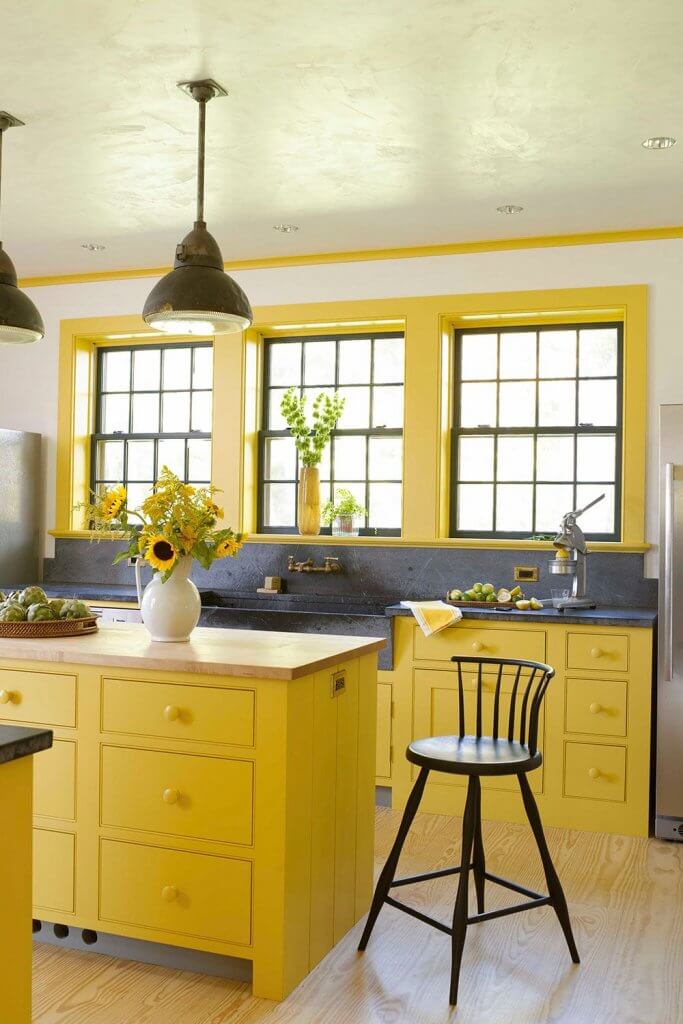 Whether it be a mellow yellow or one that mimics sunshine, yellow is definitely an attention-grabber. When paired with wooden cabinets and table tops, an energetic yet warm environment will be created.
Blue Kitchens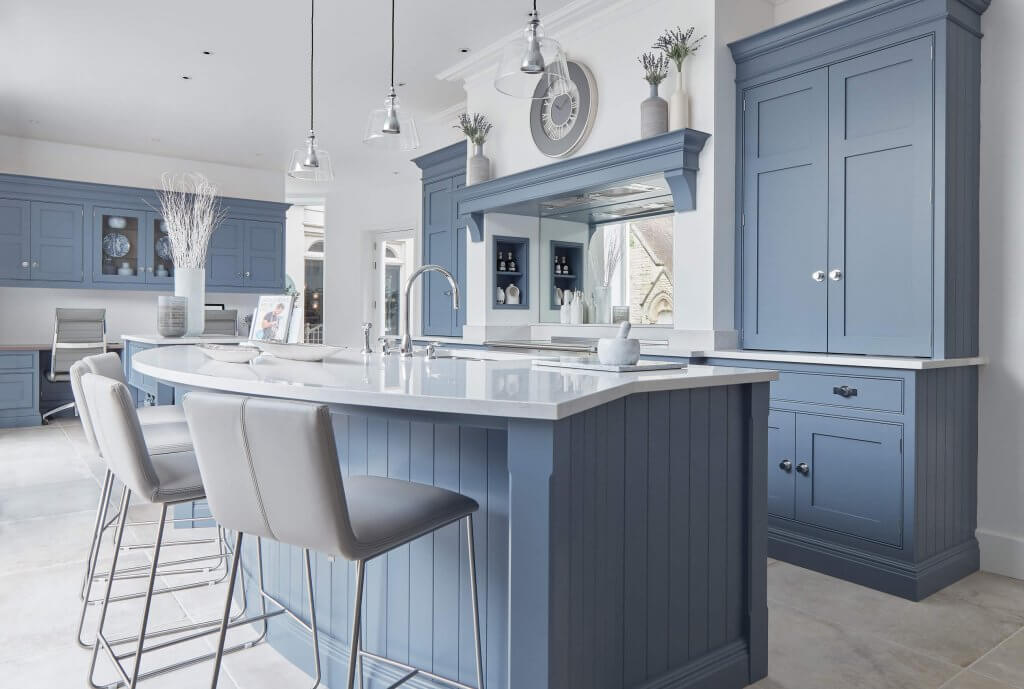 Blue isn't seen that often in kitchens but the right shade can work wonders. Lighter blues are recommended for walls, cabinets or even the ceiling if you're looking to replicate the sky. Dark, deep blues are beautiful but can be overpowering, so best to use it sparingly! Pair darker tones with whites, greys and neutral tones for a lavish contrasting effect.
Green Kitchens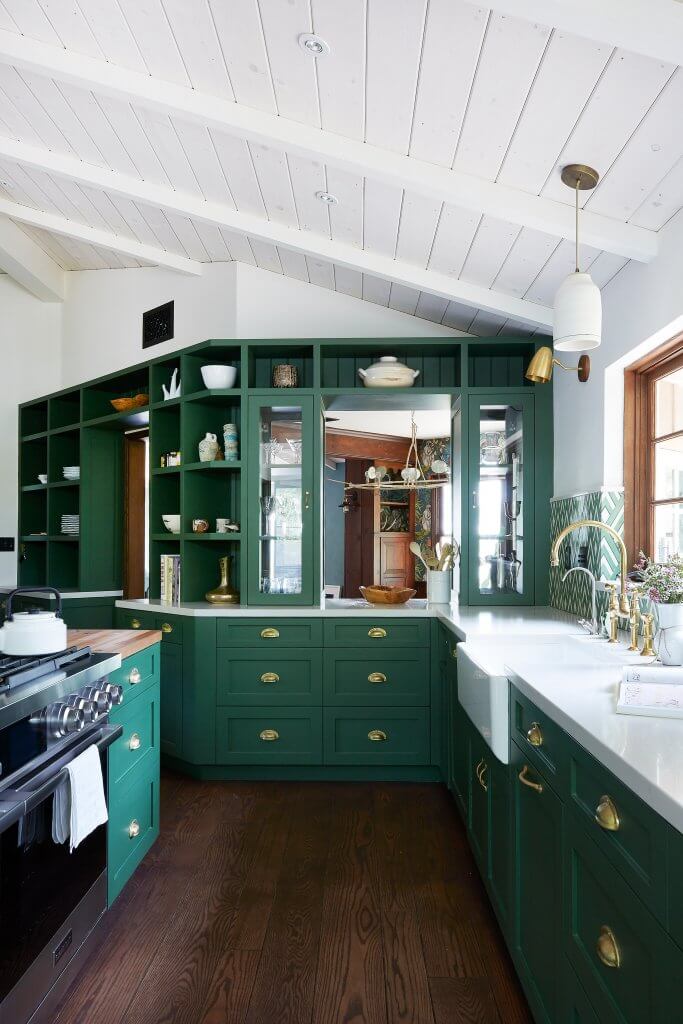 Green, when paired with white and wooden accents, makes for an adventurous kitchen decor. Whether you opt for lime, mint, seafoam, basil or emerald, it will yield a very natural look for your kitchen.
Kitchen Flooring Ideas
With the colour decided, let's now start from the ground up, shall we? Flooring is a crucial decision for a kitchen as it is one of the hardest working floors in your home. It has to cope with significant footfall, regular staining, water spills and temperature fluctuations.
With that in mind, you'll want to make sure that you're kitchen flooring is both durable & functional, as well as aesthetically pleasing. Here are a few options that we'd recommend…
Floor Tiles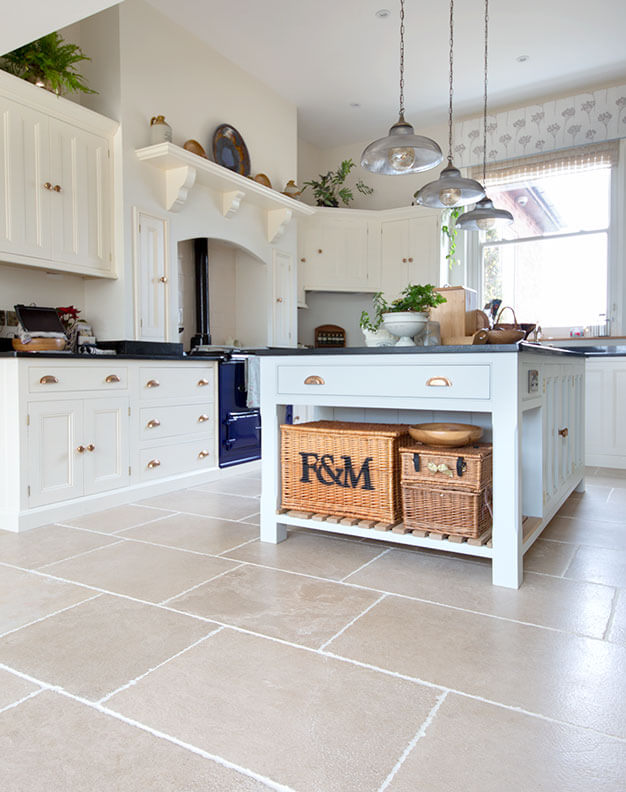 Tiles are a fantastic flooring option as they provide visual appeal and durability. They also come in a range of materials and finishes, from matted to hight shine.
If you're looking to use natural materials, choose slate or granite but for man-made materials, choose porcelain or ceramic tiles. These are tried and tested kitchen flooring materials which will last for years!
Avoid using limestone (it tends to scratch easily) or travertine (as it's porous). To clean your tiles, all you need to use is warm water on natural stone and a mild detergent on ceramic or porcelain tiles.
However, the materials used in tiling can be very cold to the touch and don't make for the most comfortable of underfoots. Something to bare in mind if you tend to stroll around your home in socks or bare-feet as opposed to always wearing footwear.
Wood Flooring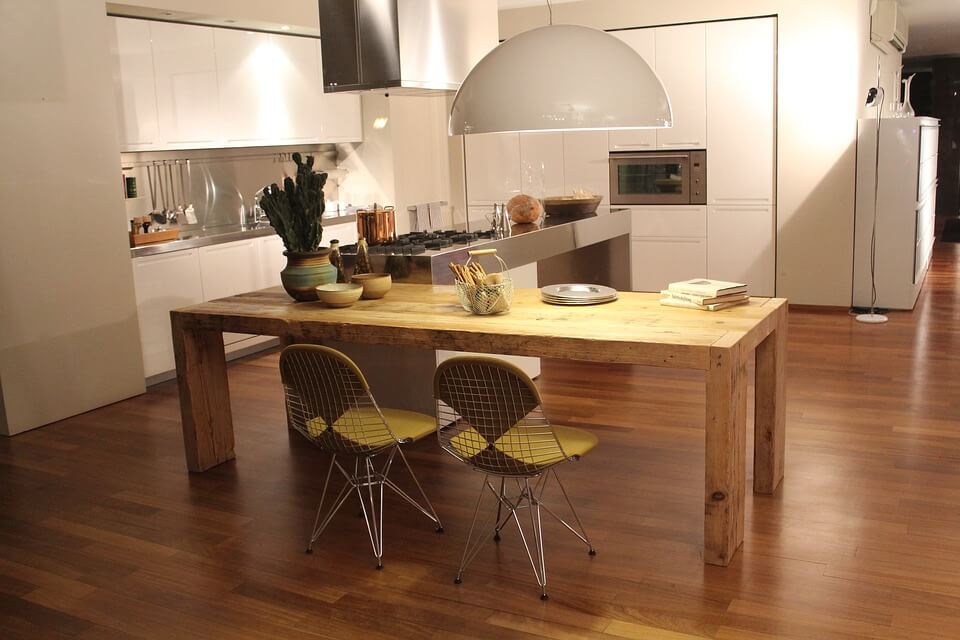 Wood flooring is very much in vogue and brings a warm, contemporary feel to a kitchen. However, in addition to temperature fluctuations, there's also a lot of moisture to cope with in the kitchen environments which can lead to wood cracking & warping over time. Therefore, you must choose your wood flooring carefully if it's part of your kitchen decor plans!
Solid wood flooring should be avoided in kitchens completely. Not only is it an expensive option but wood is prone to warp when exposed to water. Engineered wood flooring is a much better option as it is made with a very durable top later, protecting the material and making it far more resistant to moisture and warping.
Laminate Flooring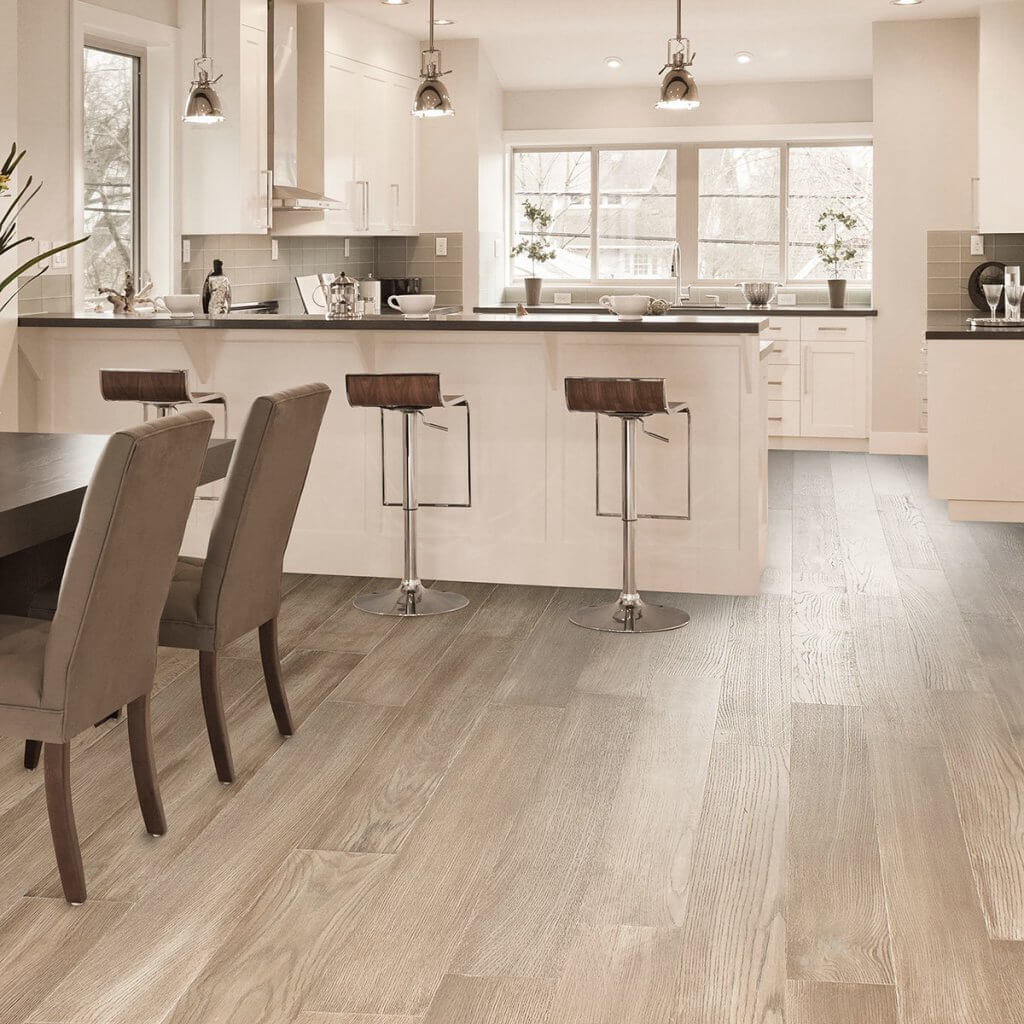 Laminate flooring is a regular sight in kitchens and has been for decades. The major selling point this option has over tile and wood flooring is that it is far less expensive. The material is also stain, scratch & water-resistant, resistant to heat fluctuations and comes in a wide variety of colours and designs including wood, tile or stone effect. No matter what decor you're planning on having in your kitchen, you will find a laminate design to meet your needs!
Despite the very cost-effective price-point, avoid using the cheapest laminate flooring options on the market. They tend to warp and peel over time whereas a high quality laminate will still be far less expensive than other flooring options, and brings with it longevity. Laminate options are also a breeze to clean, requiring only a damp cloth.
More Alternative Flooring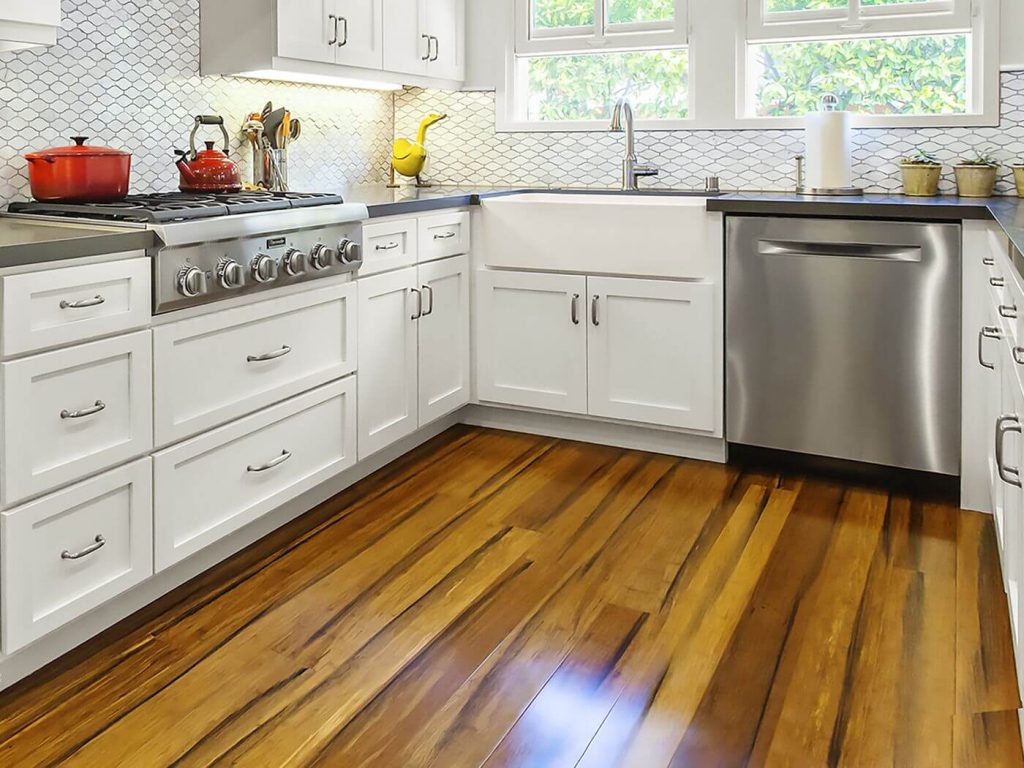 In recent years, materials including vinyl, rubber and bamboo have been growing in popularity. They are hard-wearing, aesthetically pleasing, water-resistant and are also more cost-effective than tiles or wood flooring.
A Kitchen Island Or Kitchen Table?
The next point of discussion is a very common debate in the kitchen decor conversation. The kitchen island vs the kitchen table. Both come with their merits so let's discuss…
The Kitchen Island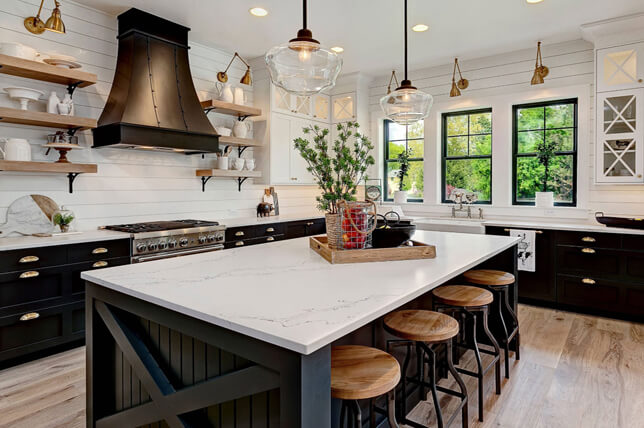 Homeowners really seem to love the kitchen island, and it's easy to see why. The island is an eye-catching yet functional element of a kitchen which offers additional counter-space, extra storage and additional seating for when you're playing host.
Islands tend to work better in larger spaces and can be used in a variety of different scenarios. You can use a kitchen island to prep food, as a make-shift bar or for serving appetisers before heading into a different room for latter courses/entertainment. It can also double up as a breakfast bar which is nice to have as an alternative dining location.
It's recommended that the distance between your kitchen island and counters is at least three feet. However. we would recommend having at least 38 to 42 inches of space around island to allow easier access to appliances, cabinets and cupboards.
The Kitchen Table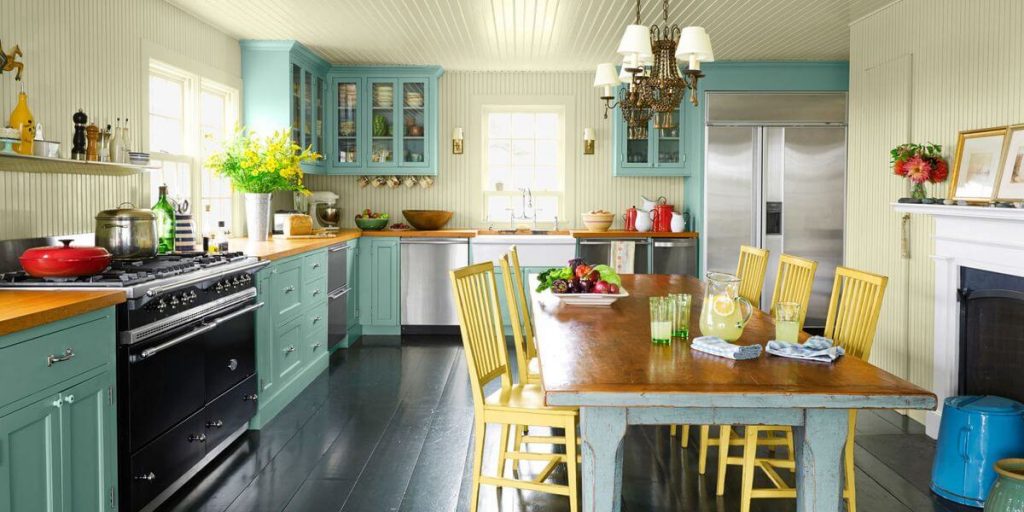 Kitchen tables on the other hand, provide far more flexibility than islands when it comes to use of floorspace, design and function. They can be used for casual as well as more formal dining, they require less room than and island and the space underneath a table can create the illusionary effect of a more open, larger floor plan. The latter is well-suited for smaller kitchens.
If you have a larger space to work with, kitchen tables can be used to better define the spaces within your kitchen. The food preparation area and dining area is clearly divided and may provide a hand in reducing the mealtime chaos larger families often face! Many kitchen tables can also come with an extension lead, which is a great way to accommodate for extra guests at a gathering.
The Breakfast Bar Option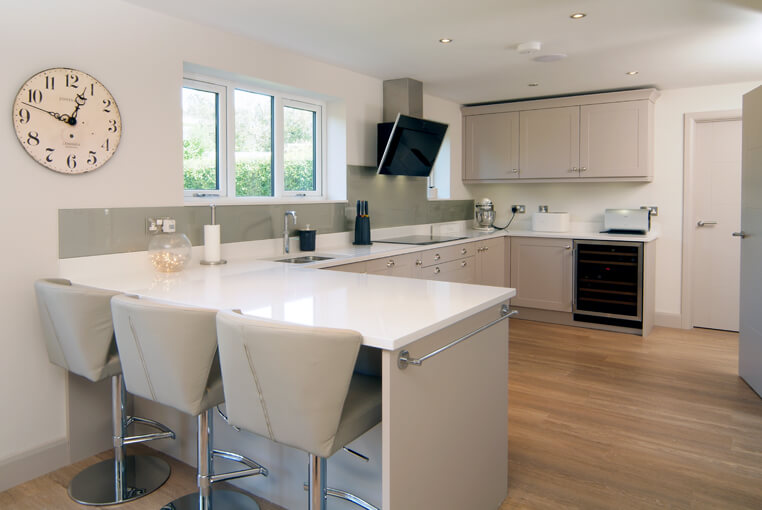 A third option that may not have crossed your mind is the breakfast bar. They provide an additional work surface, is an ideal space for informal dining, can usually seat up to four people and serves as the perfect divider between the food prepping zone and the dining area of the kitchen.
All three options have their advantages but they all ensure the most important thing. Family and friends sitting and eating together as a group to promote conversation and social interaction. Regular group dining is associated with better health, and enables stronger family bonds. So, choose the option which most appeals to your household!
Kitchen Worktops
Worktops are a key part of any kitchen re-design. They will be heavily used in food preparation, serving, perhaps dining, and will require regular, intensive cleaning. They are one of the key focal points to a kitchen and will need to adeptly compliment your kitchen cabinets and flooring.
Here are some of the key questions you need to ask yourself. Are you prepared maintain worktops which require a lot of TLC such as marble or wood? Do you tend to put hot pans straight onto the work surface or do you use a trivet? Are you prepared for the upkeep of high gloss materials or would you prefer a more low-maintenance matt finish?
The main factor to consider when it comes to kitchen worktops is the material. Worktops come in a variety of options and each come with their own unique properties. Let's explore them…
Granite Worktops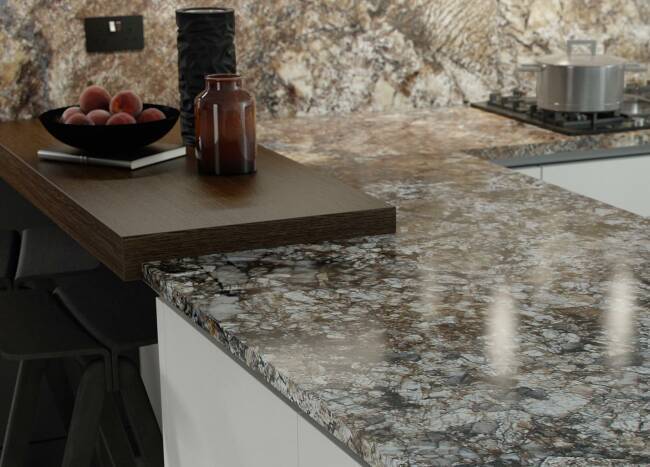 Over the last decade, granite has become one of the most popular choices for kitchen worktops. It's easy on the eyes, stylish and has connotations of luxury. Granite is produced as as result of cooling pressurised magma over millions of years. The result is a rock that's heat and scratch resistant. When sealed properly, the material also becomes stain resistant and when installed, the surface requires virtually no maintenance.
Bearing all of this info in mind, granite is by far the most low maintenance kitchen worktop and it can easily withstand hot pans if placed directly upon it. To keep it clean, you just need to wipe it with a soft microfibre cloth, warm water and a mild soap. Abrasive cleaners and sponges should be avoided.
The only downside to granite is that it is a pretty costly choice of worktop with the average price amounting to £270 per square metre and high-end options could be double this! For the price, you do receive supreme quality as grant stone will last a lifetime.
Quartz Worktops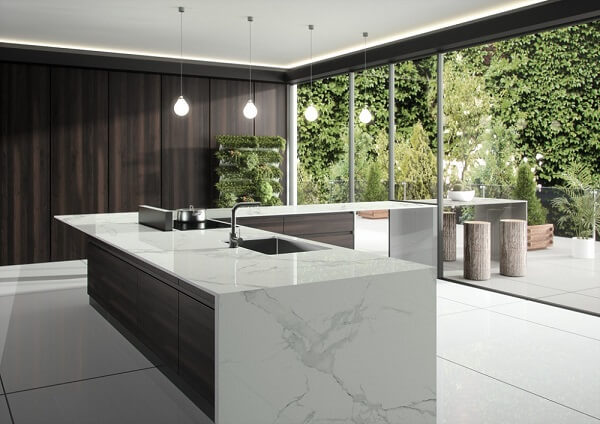 Quartz offers a more contemporary stone worktop for your kitchen. It combines the natural stone look and feel with the low maintenance properties of synthetically produced materials.
Believe it or not, quartz is actually less prone to chipping than granite but isn't as resistant to heat. So, you won't be able to place hot pans to trays upon your worktop if you habitually do so. Like granite, all you'll need to clean the surface is a cloth and warm soapy water.
Also like granite, quartz is on the expensive side. You'll be looking at £350 per square metre at least and that's before any installation costs. A big factor to bare in mind!
Hardwood Worktops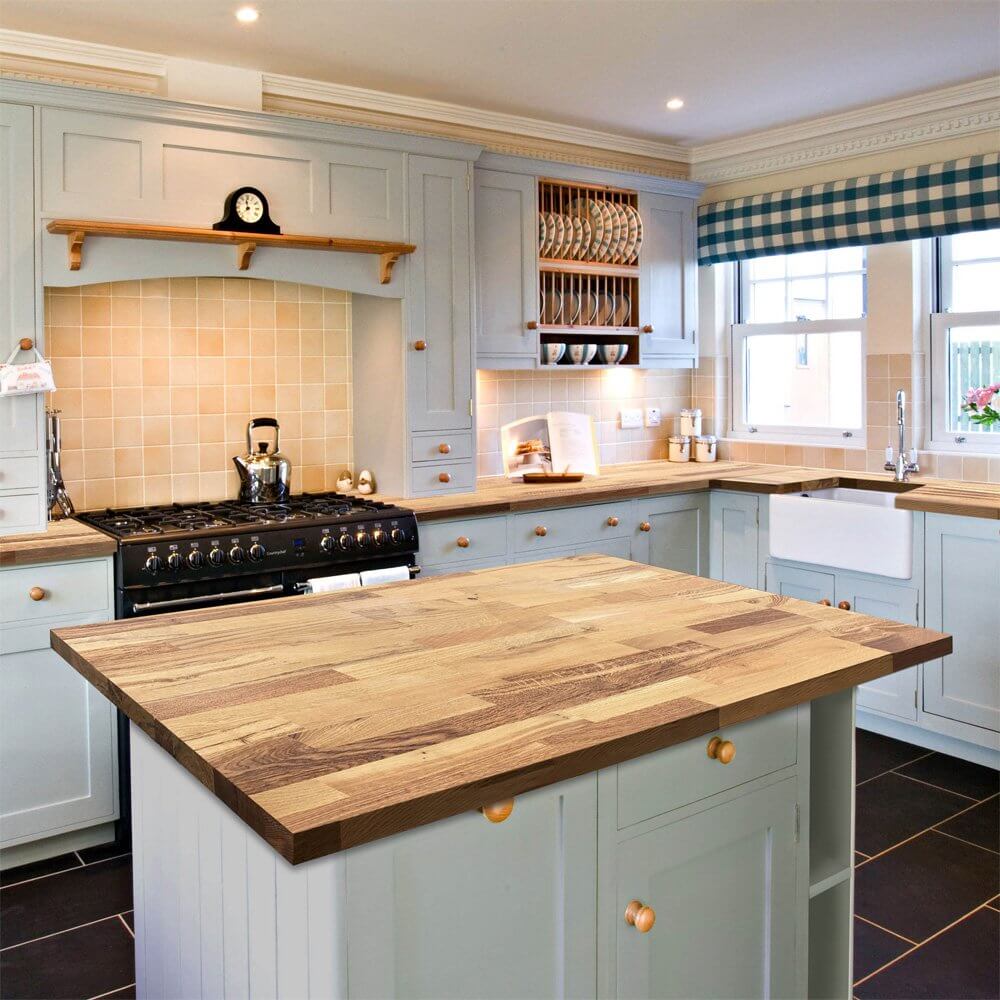 Hardwood can suit both traditional or contemporary styles. For the old school feel, oak, beech and maple are great choices. For something a bit more new age, bamboo, iroko or wenge are fantastic options. The price of hardwood worktops is also very reasonable when compared to the previous options. They start from around £120 per square metre and when properly maintained, the worktops can last for a long time.
It's worth noting that the colour of hardwood does change over time as it fades due to prolonged contact with sunlight. This isn't necessarily a bad thing as in some cases, the colour of the wood can become deeper and richer when combined with oiling. It could also be argued that the worktops gain a more rustic character in this process, but that is very much subjective.
The downsides of hardwood worktops is their susceptibility to stains and scratches. Any spillages need to be quickly wiped away, the surface can't come into contact with water for too long and you can't place hot pans onto the wood as it can scorch.
Laminate Kitchen Worktops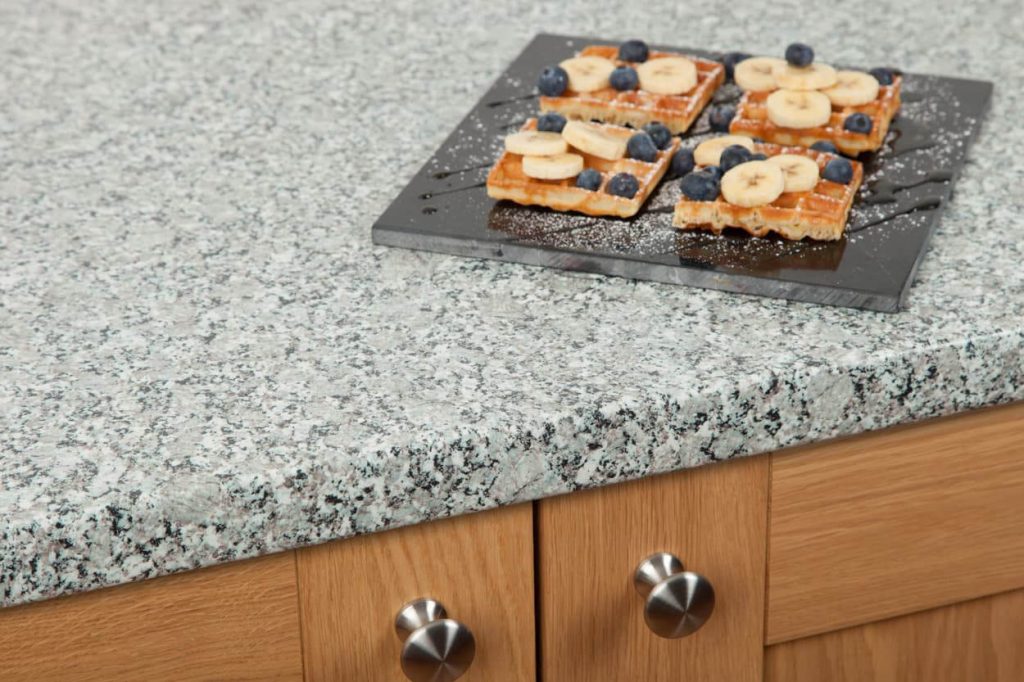 Laminate can have the appearance of wood, stone or any other material but you pay a fraction of the cost. These worktops start from as little as £35 per square metre so if you're renovating your kitchen on a tight budget, this is a great money saver!
On the positive side of things: laminate is very resilient to staining, comes in a vast array of colours and styles and you can fit the material yourself. It's so easy that you won't require a DIY professional. However, you do get what you pay for and laminate worktops will damage more easily. Be careful with knives as once there is a scratch on a laminate worktop, it's there to stay.
Glass Kitchen Worktops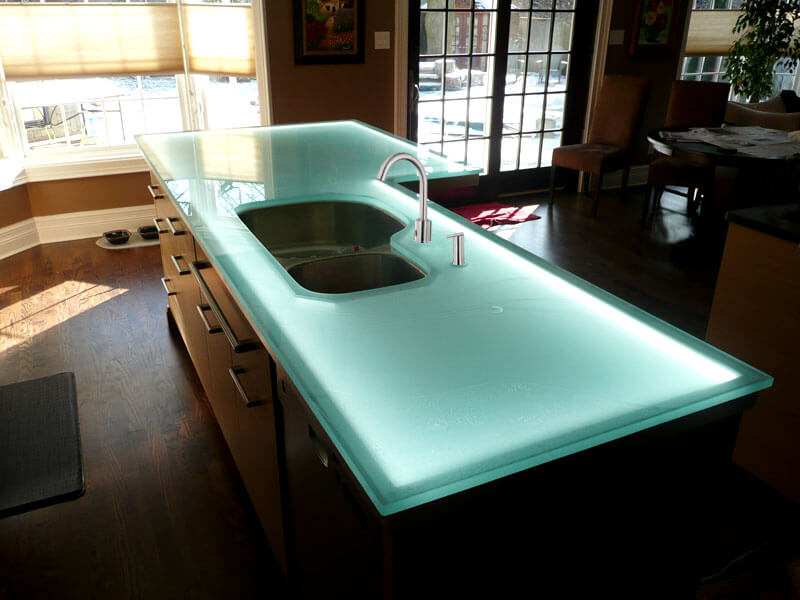 Glass is a relatively recent trend in the kitchen decor industry and is therefore very much a contemporary styling. It's tough, durable, non-porous and available in various finishes including: clear, crackled or opaque. Glass doesn't stain and spillages can be easily wiped clean, making it a very practical kitchen worktop material. It's also very hygienic as the material contains no joints to let any nastiness build up.
The material is on the pricier side of things starting at around £300 per metre and the worktop will require regular wiping down to prevent watermarks and get rid of finger prints. Glass can also be prone to scratching as well.
Marble Kitchen Worktops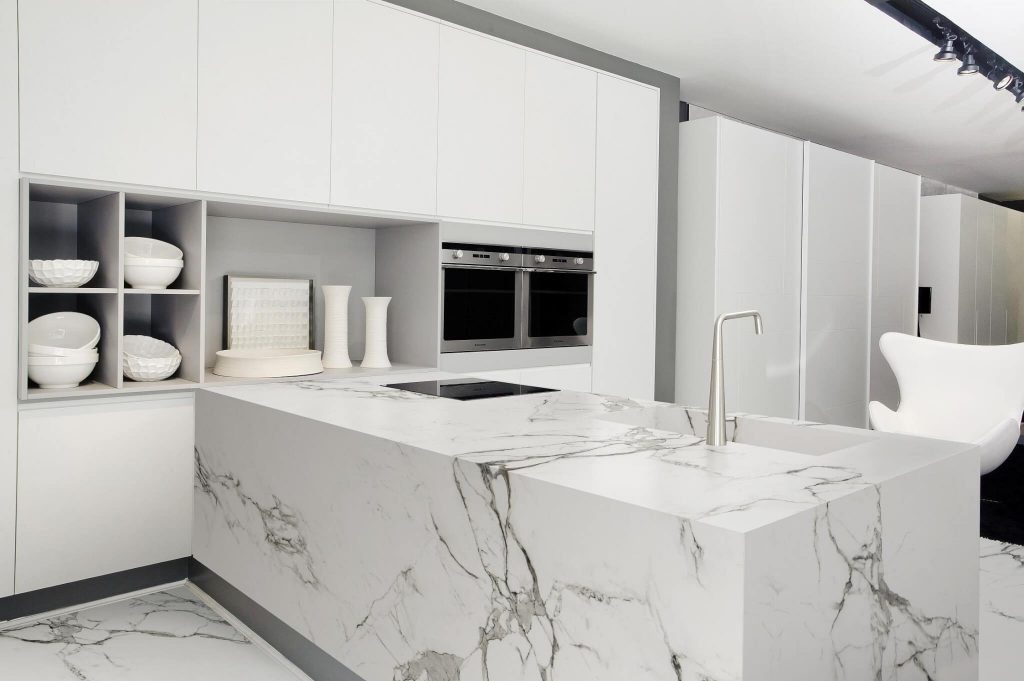 This visually striking material often associated with ancient decadence is a popular surface in luxury kitchens. It looks supremely elegant, and is a fantastic choice if you're looking to make a statement with your kitchen design. The material is also extremely durable and cool to the touch, which is a welcoming feature in the hotness of a kitchen environment.
Marble worktops will set you back around £315 per square metre on average, but they will last a lifetime. The major downside to marble however, is it's vulnerabilities to stains and scratches. Acidic liquids often used in kitchens such as lemon juice, will corrode marble and leave dull white marks. You will also have to choose your cleaning products more wisely and make sure they are PH-neutral or buy a specialist marble worktop cleaner.
Stainless Steel Kitchen Worktops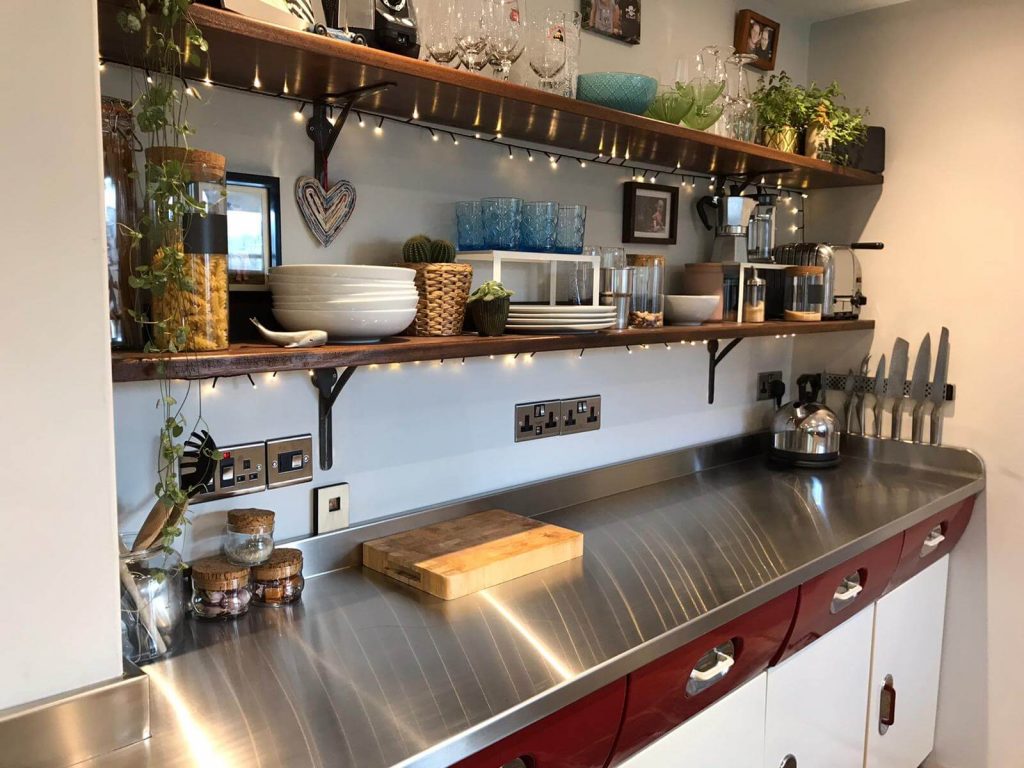 Stainless steel worktops aren't just for restaurant kitchens. They are now used in contemporary industrial-style home kitchens for a very chic look. The material is, pardon the pun, as strong as steel, heat & acid resistant and waterproof. it is prone to scratching but that can be minimised with a matt finish. It's also extremely easy to clean and starts from around £200 per square metre.
Ceramic Kitchen Worktops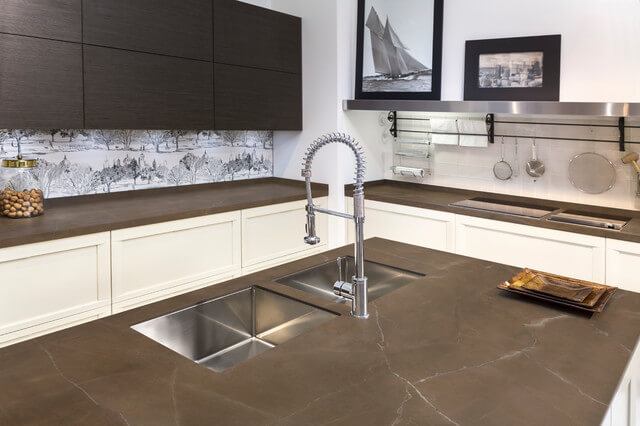 Ceramic worktops are versatile, hygienic, easy to clean, durable, moisture resistant and serve as a great alternative to marble. They are however, prone to scratching, can crack and start from £350 per square metre.
Kitchen Cabinets
Penultimately, kitchen cabinets are the second to last item to tick of the design checklist. These units are the true backbone of any kitchen providing you with excellent storage solutions if you get things right…
Chipboard or MDF Kitchen Units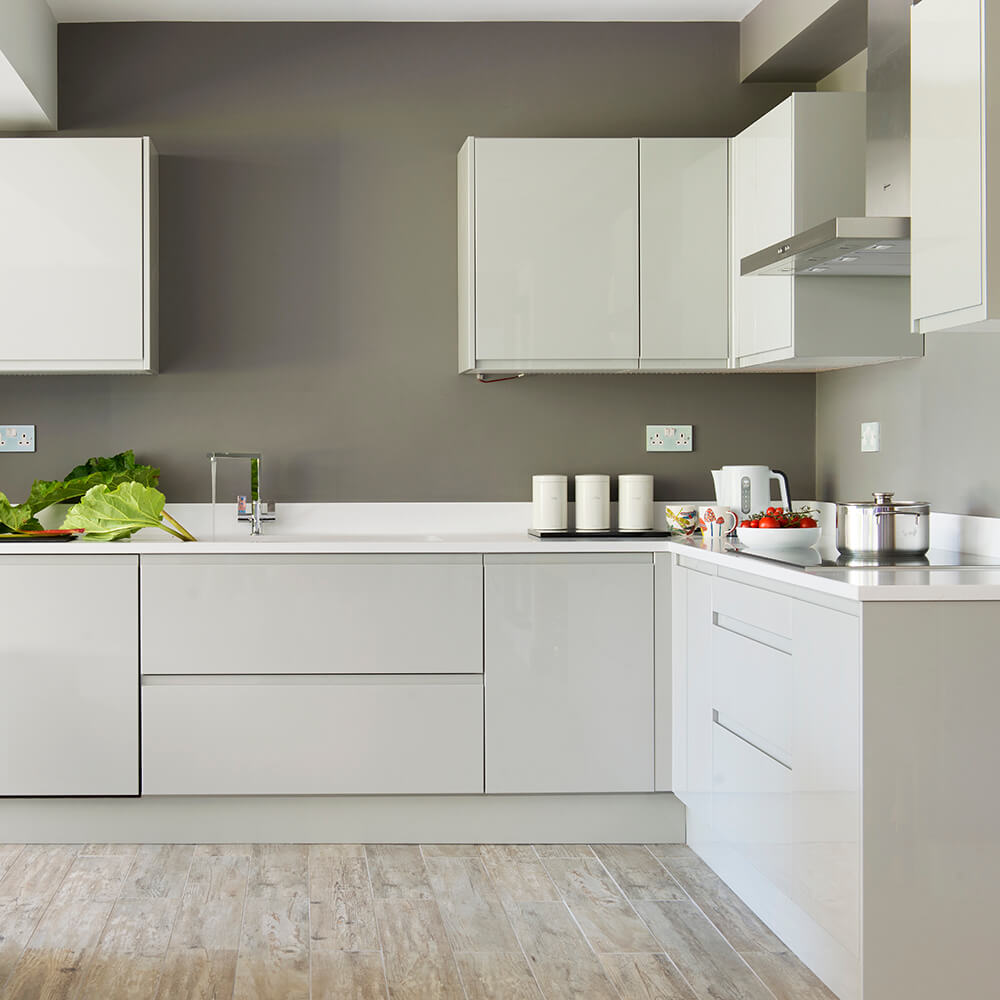 Many opt for laminate covered chipboard or MDF (Medium-Density Fibreboard) kitchen units. They can come with plain matt or gloss finishes or replicate other materials. These are pretty much the cheapest units that you can buy but don't let that put you off! You don't see the innards of your cabinets too often so many renovators choose to save money her and spend more of their budget in other areas of the kitchen decor. These units are moisture resistant and very easy to clean.
Solid Wood Kitchen Units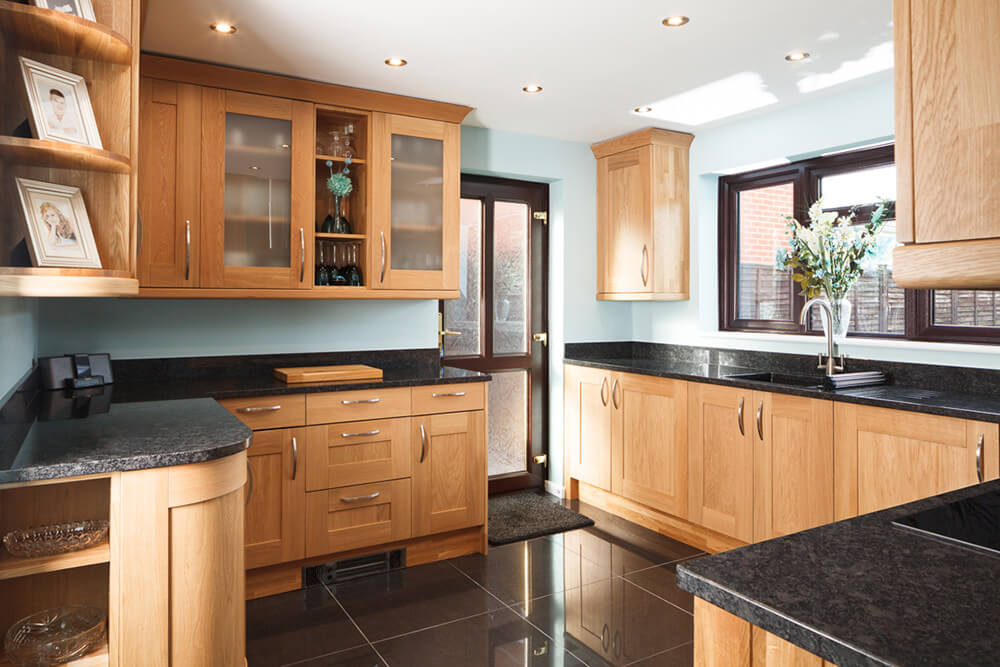 There are a variety of wooden kitchen cabinets to choose from but they are more expensive than laminated chipboard or MDF offerings. Despite their strength, these units can be very rigid and can warp over time, making them an impractical choice long-term. If you really want the look of real wood, we recommend buying a cheaper cabinet innard made from a cheaper materual and add end panels/doors in solid wood.
Kitchen Lighting
And… last but not least, as we reach the ceiling and the last item on the decor shopping list, it's time to decide on your kitchen lighting! Lighting is a mood changer so you'll want to choose wisely in order to provide sufficient illumination and set the right ambience for the space. Let's run through the options…
Pendant Kitchen Lights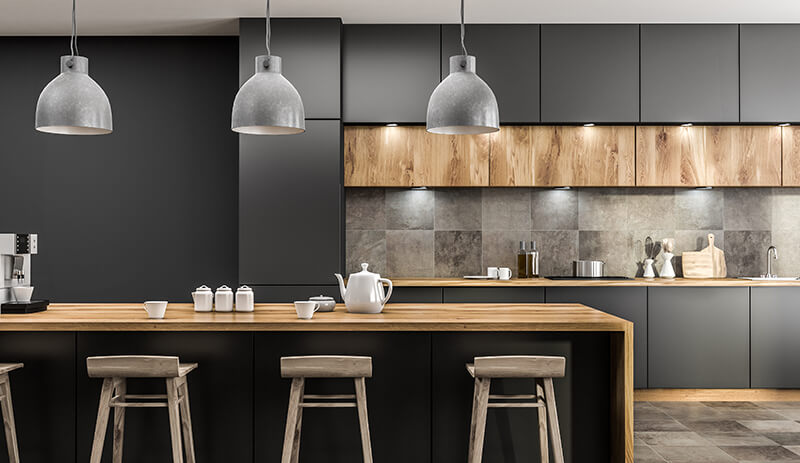 Whether it be a single pendent or a series of them, when placed as a statement piece above a dining table or island, beautiful results are yielded. Pendants come in a range of styles from old-school industrial shapes, to trendy coppers or elegant ceramics in translucent hues. Add a dimmer switch into the mix and create bright areas when working, or low-level lighting for a more intimate setting with friends.
LED Kitchen SpotLighting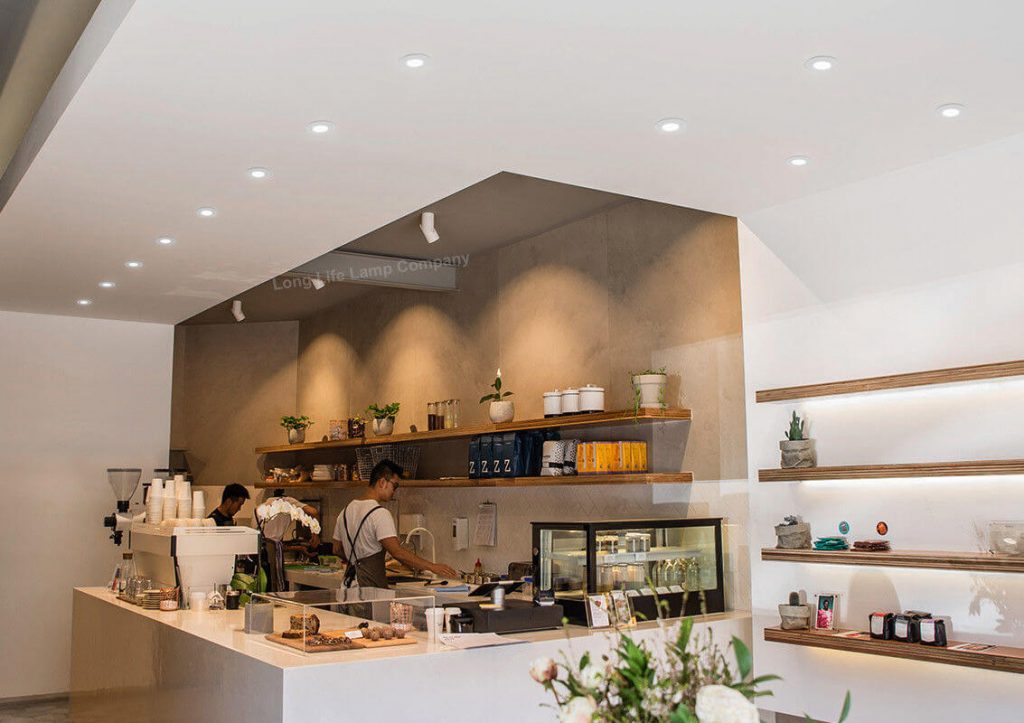 LED spotlights are frequently used in modern kitchen designs. They emit low levels of heat making them very energy efficient which is perfect for kitchen areas, as you'll want as little maintenance in the room as possible.
Spotlights are also extremely easy to replace when compared to recessed ceiling lights or to floor up-lighters, and take no time at all to warm up to full brightness levels. They are fantastic if you're looking for a more contemporary kitchen styling.
Track Kitchen Lighting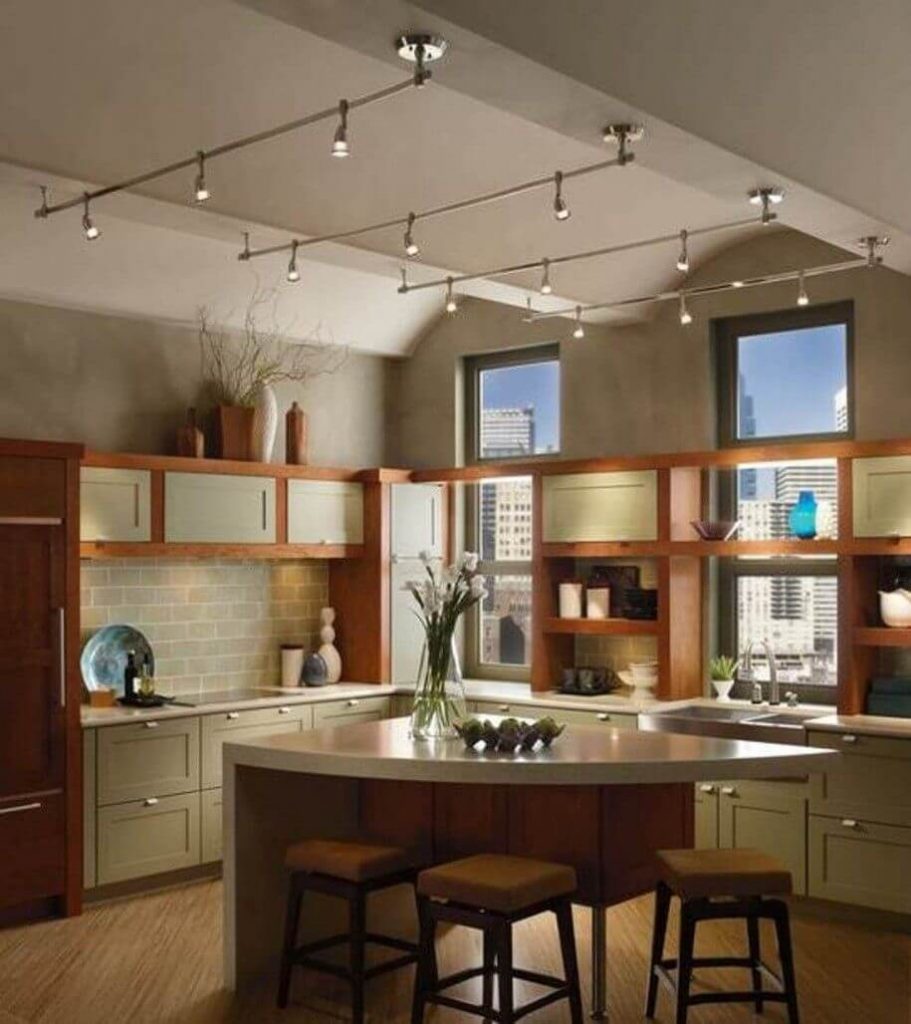 Track lighting can be used as both a primary light source or accent lighting for a kitchen. They're actually a very effective lighting option as the multiple light fittings can be angled to place illumination on specific areas of your kitchen, producing am even distribution of illumination around the kitchen area.
Task lighting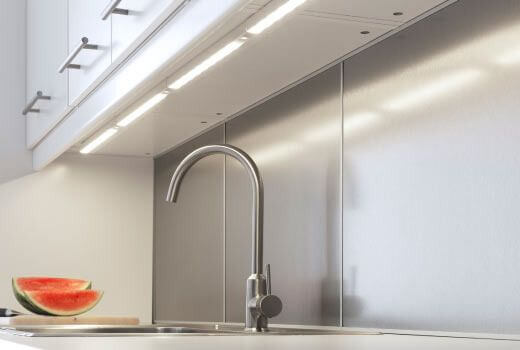 This is where lighting is used in key working areas, offering increased visibility when conducting kitchen tasks. Under-cupboard lighting is a particular favourite of ours which can provide useful illumination over sinks, hobs or chopping areas. Task lighting usually take the form of subtle spot lighting or LED strips. Interior cabinet lighting and kitchen drawer lighting are other great options.
Mood or Accent Lighting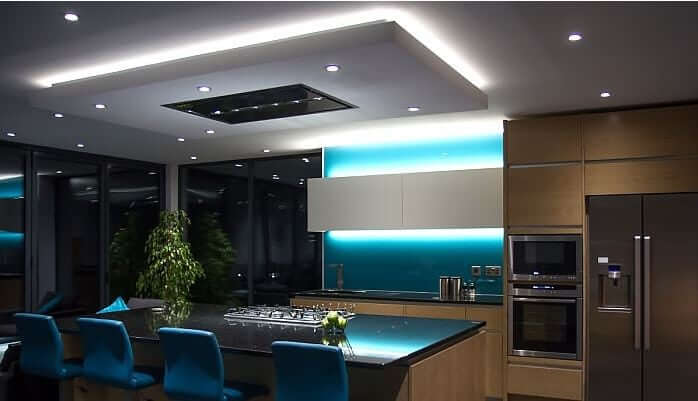 Mood or accent lighting can be for decorative or ambience-setting purposes. They can take the form of above cabinet lighting, kitchen cabinet interior lighting, toe kick lighting, recessed lighting, art lighting, flush mounts and more.
With accent lighting, you can draw attention to particular architectural details, artwork or other displays in your kitchen. It really makes a significant impact on the room and is a relatively inexpensive way to provide the finishing touches on your kitchen interior.
With so many lighting options to choose from, it may be worth considering a flexible lighting system where multiple lighting options are controlled separately. You'll be able to create different moods at the flick of a switch(es) via single lighting elements or a combination of each.
And That Was The Ultimate Kitchen Extension Design Guide for 2021
After covering the kitchen extension from flooring to ceiling, we at West Midlands Home Improvements truly hope that you've found this guide useful and that it has aided your kitchen extension design goals.
Alongside our sister company West Midlands Double Glazing, we provide a comprehensive range of home improvement services which includes kitchen extensions.
If you have absolutely any questions or queries regarding kitchen extensions whether it be on the interior design or construction side of things, feel free to get in touch with the WMHI today.
In any case, have fun and enjoy the process of creating your dream kitchen!